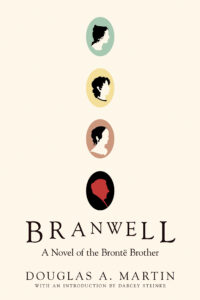 Title:

Branwell: A Novel of the Brontë Brother

by Douglas A. Martin, Darcey Steinke
Published by Soft Skull
Published: July 7th 2020
Genres: Fiction
Pages: 256
Format: Trade Paper
Source: Publisher
Goodreads

For readers of Michael Cunningham's The Hours and Madeline Miller's Song of Achilles, this genre-bending exploration of the tragic figure of Branwell Brontë and the dismal, dazzling landscape that inspired his sisters to greatness is now available in a new edition with an introduction by Darcey Steinke.
Branwell Brontë―brother of Charlotte, Emily, and Anne―has a childhood marked by tragedy and the weight of expectations. After the early deaths of his mother and a beloved older sister, he is kept away from school and tutored at home by his father, a curate, who rests all his ambitions for his children on his only son. Branwell grows up isolated in his family's parsonage on the moors, learning Latin and Greek, being trained in painting, and collaborating on endless stories and poems with his sisters.
Yet while his sisters go on to write Wuthering Heights, Jane Eyre, and Agnes Grey, Branwell wanders from job to job, growing increasingly dependent on alcohol and opium and failing to become a great poet or artist.
With rich, suggestive sentences "perfectly fitted to this famously imaginative, headstrong family" (Publishers Weekly), Branwell is a portrait of childhood dreams, thwarted desire, the confinements of gender―and an homage to the landscape and milieu that inspired some of the most revolutionary works of English literature.
Douglas A. Martin's Branwell is a queer interpretation of Branwell Bronte's life, and an interpretation that I found both thought-provoking and stylistic. Martin imagines a Branwell struggling to live up to the expectations he felt as the 'man of the house' and ultimately failing on several levels. I think to get the full scope of the novel, the reader must be familiar with the Bronte history and lore, especially knowing that Charlotte destroyed so much of their family's personal writings and letters after their deaths. It raises the question of what Charlotte was hiding or protecting, and Martin's novel explores an answer to the question of Branwell. Based on my own research, this novel takes liberties with the life of Branwell, though I feel these liberties were tied in with Martin's own experiences through revelations in the introduction to this book. I ultimately found the sexual content of this novel disturbing, and the barn scene at the end soured my reading experience because the implied bestiality ended up being all I could think about as it seemed out of place in the context and scope of things.
I do find it interesting to me to have received this almost alongside another title about Branwell's life and I am looking forward to reading that one as well, and Martin's seems to be in stark contrast thematically and stylistically to the other book about the affair of "unspeakable acts" Branwell had in his lifetime, as the affair has been referred to as a screen for homosexual activity. If you are interested in queer interpretations of literary figures and stylistic writing, based in fact or toying with it, this may pique your interest, but do be aware of the heavy subject matter.
Many thanks to Soft Skull Press for sending me a complimentary copy to review! All opinions are my own.