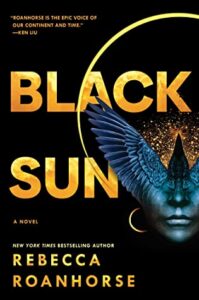 Title:

Black Sun

by Rebecca Roanhorse
Series: Between Earth and Sky #1
Published by Saga Press
Published: October 13th 2020
Genres: Fantasy
Pages: 454
Format: ARC
Source: Netgalley, Publisher
Buy: Bookshop(afflilate link)
Goodreads


From the New York Times bestselling author of Star Wars: Resistance Reborn comes the first book in the Between Earth and Sky trilogy, inspired by the civilizations of the Pre-Columbian Americas and woven into a tale of celestial prophecies, political intrigue, and forbidden magic.

A god will return
When the earth and sky converge
Under the black sun

In the holy city of Tova, the winter solstice is usually a time for celebration and renewal, but this year it coincides with a solar eclipse, a rare celestial event proscribed by the Sun Priest as an unbalancing of the world.
Meanwhile, a ship launches from a distant city bound for Tova and set to arrive on the solstice. The captain of the ship, Xiala, is a disgraced Teek whose song can calm the waters around her as easily as it can warp a man's mind. Her ship carries one passenger. Described as harmless, the passenger, Serapio, is a young man, blind, scarred, and cloaked in destiny. As Xiala well knows, when a man is described as harmless, he usually ends up being a villain.

Crafted with unforgettable characters, Rebecca Roanhorse has created an epic adventure exploring the decadence of power amidst the weight of history and the struggle of individuals swimming against the confines of society and their broken pasts in the most original series debut of the decade.
Before receiving access to a digital arc, I had been eagerly anticipating reading Rebecca Roanhorse's
Black Sun
. I didn't know much about it going into it aside from the fact that it's high fantasy that
isn't
European inspired. Don't get me wrong, I love me some medieval-esque fantasy, but as it seems to be the "standard" in what's out there, I want to read beyond that. The gruesome opening scene to this novel propels the story forward and kept me wanting to know
how
and
why
and
what
, and I devoured this in a matter of days.
This story is has the foundation of Indigenous mythology, and Roanhorse weaves culture and identity in delightful and refreshing ways. Nothing about this novel feels didactic; the characters' genders, sexualities, and lives felt so immediate, real, and never forced. To be in a world in which you can be who you are and to have it accepted without a second thought is so refreshing, and I know this will resonate with a lot of readers who are trans and non-binary. While fantasy is often considered 'escapist,' this fantasy wants you to consider looking at your own world through a different lens. It especially made me want to learn more about precolonial indigenous mythology and literature.
The relationships and the conflicts among the characters against the backdrop of politics and celestial prophecies propel this story forward, and I'm already craving the sequel. I loved the matriarchal societies, especially the Teek, and I hope more of the Teek culture is featured in the next books in the trilogy. It's one of those books in which I found every single character compelling, from the protagonists to the antagonists, because each "side" has credible reasons for behaving and believing in what they do, and to me that makes the conflict much more real, personal, and elevated.
I don't want to talk about the details of this too much because so much enjoyment for me from this book came from the discovery of reading it. This is one of my top reads of the year, and I'm going to be talking about it and recommending it for years to come.
If you only read one high fantasy this year, make Black Sun your choice.
I received a digital arc from Netgalley/Saga for review! All opinions are my own.