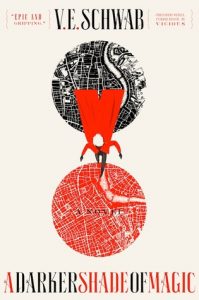 Title:

A Darker Shade of Magic

by V.E. Schwab
Series: Shades of Magic #1
Published by Tor Books
Published: February 24th 2015
Genres: Fantasy
Pages: 400
Format: Hardcover
Source: Purchased
Goodreads


Kell is one of the last travelers--magicians with a rare, coveted ability to travel between parallel universes connected by one magical city.
There's Grey London, dirty and boring, without any magic, and with one mad King--George III. Red London, where life and magic are revered--and where Kell was raised alongside Rhy Maresh, the roguish heir to a flourishing empire. White London--a place where people fight to control magic and the magic fights back, draining the city to its very bones. And once upon a time, there was Black London. But no one speaks of that now.
Officially, Kell is the Red traveler, ambassador of the Maresh empire, carrying the monthly correspondences between the royals of each London. Unofficially, Kell is a smuggler, servicing people willing to pay for even the smallest glimpses of a world they'll never see. It's a defiant hobby with dangerous consequences, which Kell is now seeing firsthand.
Fleeing into Grey London, Kell runs into Delilah Bard, a cut-purse with lofty aspirations. She robs him, saves him from a deadly enemy, and finally forces Kell to spirit her to another world for a proper adventure.
Now perilous magic is afoot, and treachery lurks at every turn. To save all of the worlds, they'll first need to stay alive.
Some thought magic came from the mind, others the soul, or the heart, or the will. But Kell knew it came from the blood.
Blood was magic made manifest. There it thrived. And there it poisoned. Kell had seen what happened when power warred with the body, watched it darken in the veins of corrupted men, turning their blood from crimson to black. If red was the color of magic in balance—of harmony between power and humanity—then black was the color of magic without balance, without order, without restraint.
As an Antari, Kell was made of both, balance and chaos; the blood in his veins, like the Isle of Red London, ran a shimmering, healthy crimson, while his right eye was the color of spilled ink, a glistening black.
I feel like there are so many reviews and praise of this book everywhere that I am going to make a list of all the things I like about this book.
The writing. It's concise, sharp, witty, and engaging. Sometimes I feel like I'm reading a book word for word, but Schwab manages to make reading absolutely effortless and a heck of a lot of fun.
LONDON. Like I mentioned in my last post, if there's a book set in London, I'm sold, please give it to me to read, and this series has FOUR LONDONS. FOUR!!! The world building never seemed confusing to me, didn't seem forced, and I found it one of the most effortlessly magical worlds built in my recent reading experiences!
Kell's magical coat. I want a coat with that many sides and that many pockets. Just think of the snacks and books I could carry with me if I had a coat like that??
Lila's lifelong dream of being a pirate. Who doesn't want to be a pirate?! And her missing eye? Is she possibly an Antari?? omg
It's violent and stabby and bloody.
The magic. It seems simple and not very complex on the surface, but by the end of this, I feel like so much more can be explored in the scope of the magic, and I hope it is in the rest of the trilogy!
The characters. They're so varied and engaging and sassy and everything I like to find in a cast of characters.
I waited to read the second until the third one was released, and now that I have all three, I'm reading the rest of the trilogy this year! It's an incredibly hyped trilogy, but I find it's well deserving of the hype it receives.