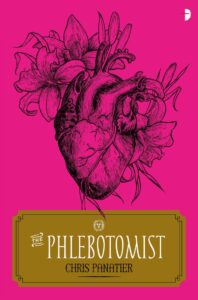 Title:

The Phlebotomist

by Chris Panatier
Published by Angry Robot
Published: September 8th 2020
Genres: Fiction, Thriller, Science Fiction
Pages: 344
Format: Trade Paper
Source: Publisher
Buy: Bookshop(afflilate link)
Goodreads


In a near future where citizens are subject to the mandatory blood draw, government phlebotomist Willa Wallace witnesses an event that makes her question her whole world.To recover from a cataclysmic war, the Harvest was created to pass blood to those affected by radiation.

But this charitable act has led to a society segregated entirely by blood type. Patriot thanks and rewards your generous gift based on the compatibility of your donation, meaning that whoever can give to the most, gets the most back. While working as a reaper for the draw, Willa chances upon an idea to resurrect an obsolete collection technique that could rebalance the city.
But in her quest to put this in motion, she instead uncovers a secret that threatens her entire foundations…
Chris Panatier's
The Phlebotomist
is a wild dystopian ride that took a turn I was
not
expecting but by which I was completely thrilled. It starts out as a Bladerunner-esque dystopia in which people must sell their blood to Patriot, the government, in order to survive and to help those in the Grey Zone, an area suffering from the aftermath of bombardment. This differs from the usual dystopian fare in that the main character is a
grandmother
, and I truly love seeing older characters in the spotlight. Yes, the younger ones can be fun, but having the experience of life while also learning that you don't know as much about the role you play in society is such a refreshing thing for me to see.
If you're bothered by blood and medical terminology, definitely be aware that this has a lot of it. It's so well done that even I was feeling a bit squeamish at some of the scenes, but I think that added to the grim reality of selling blood every month to the government for survival. I loved the medical definitions related to blood at the beginning of each chapter that kind of clued into where the story was going. Around a hundred pages in is where the twist happens, and it's better if you don't know what it is, because that's when the puzzle of this future world starts piecing itself together and making its reveal. I went into this only knowing it was about a phlebotomist in a dystopian setting, and that twist got me excited to finish reading this to see how everything ended. All of the characters brought so much life to the story, and the unusual cast was another reason I was hooked, even though I knew no one could possibly be safe.
While this isn't your typical gritty dystopia, I recognized a lot of throwbacks to dystopian favorites while also being fresh and innovative. There are a lot of WTF moments that pulsed throughout because it's full of secrets, political intrigue, and class exploration that feels so relevant toward today, especially with COVID, society collapse, and its criticism of governments exacting control over their citizens. Because it blends together elements of so many different genres — thrillers, science fiction, mysteries, and dystopias — I think it'll appeal to a wide variety of readers. It's definitely a fun, fast read, and I hope someday there's another book set in this universe! It reads as a standalone with enough of an open to add more.
Many thanks to Angry Robot for sending me a complimentary review copy! All opinions are my own.