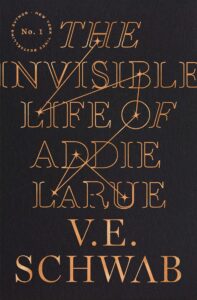 Title:

The Invisible Life of Addie LaRue

by V.E. Schwab
Published by Tor Books
Published: October 6th 2020
Genres: Fantasy
Pages: 442
Format: Hardcover
Source: Purchased
Buy: Bookshop(afflilate link)
Goodreads


A Life No One Will Remember. A Story You Will Never Forget.
France, 1714: in a moment of desperation, a young woman makes a Faustian bargain to live forever and is cursed to be forgotten by everyone she meets.
Thus begins the extraordinary life of Addie LaRue, and a dazzling adventure that will play out across centuries and continents, across history and art, as a young woman learns how far she will go to leave her mark on the world.
But everything changes when, after nearly 300 years, Addie stumbles across a young man in a hidden bookstore and he remembers her name.
Schwab is one of my favorite writers. I love the way she uses language to create worlds, and I love the connections between characters she develops.
The Invisible Life of Addie LaRue
is one of my favorite reads of 2020, and even though it's been a few weeks since I've finished reading it, I can't stop thinking about it in both good and not so good ways. I understand some of Schwab's reasoning about choosing not to include very overt and specific historical things due to a fear of not writing it correctly, but they were still 
choices
. I'll try not to spoil it too much, but be forewarned that there might be spoilers below!
Addie LaRue made a deal with the devil to escape a life she doesn't want, and an aftereffect of the deal is that no one remembers her. Throughout her life, throughout hundreds of years, she travels the world but the parts Schwab wrote about are so obviously eurocentric and white. There is no mention of the slave trade, not even in passing, and no mention of the civil rights movements occurring throughout the last hundred and fifty years. Is it because Schwab didn't find it comfortable to write about or include, or is Addie so self-centered that she is only concerned about her day-to-day life and influencing artists rather than seeing what she could do, however small and incremental (as she does with the artists' lives with whom she engages), to the grander scope of society? I feel like it's a little of both, and I just wish there was something. Addie can't be photographed, make any kind of physical written mark or brush stroke, but she can influence people in their art?? This is the main frustration I had with the book because it paints such a soft, sanitary version of the world. I know that's not the point of the book, but I do wish history in its terrible reality had been included more.
But to me, Addie's plight, her desire to be herself and live as she wished resonates a lot with me on so many levels. I often feel invisible, wanting to be recognized but finding myself stopped short by some invisible force.
"I do not want to belong to someone else," she says with sudden vehemence. The words are a door flung wide, and now the rest pour out of her. "I do not want to belong to anyone but myself. I want to be free. Free to live, and to find my own way, to love, or to be alone, but at least it is my choice, and I am so tired of not having choices, so scared of the years rushing past beneath my feet. I do not want to die as I've lived, which is no life at all."
Addie lives each day being forgotten by other people until Henry, the boy from the bookshop, remembers her. Everything she has known up until that point is thrown into a topsyturvy mess, and she spends a lot of time figuring out what that means while also falling in love with Henry. Knowing Schwab's style from books in the past, I had an inkling about where the story would go, and it lived up to all of my expectations. I loved the ending because it felt like the right choice for her. All she wanted was to be known for who she is, not for who she could be; and for Henry, there were a lot of could bes involved.
Even with my frustrations about the history included in this book, I still enjoyed it a lot. Schwab's style has grown and evolved since I first started reading her work, and I'm looking forward to what comes next. This is a novel that is best read without knowing too much about it (and I know I probably spoiled it a lot in this review), but the day-to-day explorations and trials Addie faces as someone who can't be remembered resonated with me a lot, and a reread of this book is likely in my near future.