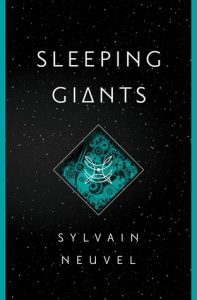 Title:

Sleeping Giants

by Sylvain Neuvel
Series: Themis Files #1
Published by Del Rey
Published: April 26th 2016
Genres: Science Fiction
Pages: 304
Format: Hardcover
Source: Purchased
Goodreads


If you fall in love with someone, there's a good chance the person won't love you back. Hatred, though, is usually mutual. If you despise someone, it's pretty much a given they're also not your biggest fan.
Sylvain Neuvel's Sleeping Giants is the story of a girl named Rose who falls into a pit in the middle of the earth in South Dakota, and when she wakes up, she discovers a piece that's part of a very large robot. Told through a series of interviews, we see from different perspectives the discovery of more of those robot parts and the dawning realization that there is no possible way that humans built this thing. The question remains – who did? Where did this robot's creators originate? Why was Earth chosen as a destination point for this machine? Are there more?
I enjoyed the style of this book. It reads quickly, and I was constantly turning the pages to see what happened next. The biggest frustration, and it seems relatively minor in the grand scheme of things, in reading stories through the eyes of interviews, articles, and detached narratives are that we're forced to piece together what happens behind the scenes and who these characters are in relation to the story at hand. When the interviews jump ahead in time by months or years or whatever, I was left wanting to know more about the in-between times, which isn't a bad thing in the end, because the jumps kept the story moving forward and I don't think anyone wants a 700+ book of interviews detailing every exact thing. I just enjoyed Neuvel's world-building so much that I wanted that extra stuff. I've got the sequel ready to go, so I'm hoping for more greatness!
It's billed as something for fans of The Martian, but I think it's more in line with Pacific Rim and any other machina science fiction. For a debut novel, I was impressed with Neuvel's scope in his world-building, detail, and character development. It's a solid novel that feels like it's been written by someone who has been doing this sort of writing for a long time. I really enjoyed it, and I think it's a thrilling read for people who love science fiction and for people who love a good thriller.