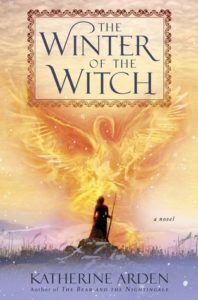 Title:

The Winter of the Witch

by Katherine Arden
Series: Winternight Trilogy #3
Published by Del Rey Books
Published: January 8th 2019
Genres: Fantasy
Pages: 372
Format: eBook
Source: Netgalley
Goodreads


Following their adventures in The Bear and the Nightingale and The Girl in the Tower, Vasya and Morozko return in this stunning conclusion to the bestselling Winternight Trilogy, battling enemies mortal and magical to save both Russias, the seen and the unseen.

Reviewers called Katherine Arden's novels The Bear and the Nightingale and The Girl in the Tower "lyrical," "emotionally stirring," and "utterly bewitching." The Winternight Trilogy introduced an unforgettable heroine, Vasilisa Petrovna, a girl determined to forge her own path in a world that would rather lock her away. Her gifts and her courage have drawn the attention of Morozko, the winter-king, but it is too soon to know if this connection will prove a blessing or a curse.

Now Moscow has been struck by disaster. Its people are searching for answers—and for someone to blame. Vasya finds herself alone, beset on all sides. The Grand Prince is in a rage, choosing allies that will lead him on a path to war and ruin. A wicked demon returns, stronger than ever and determined to spread chaos. Caught at the center of the conflict is Vasya, who finds the fate of two worlds resting on her shoulders. Her destiny uncertain, Vasya will uncover surprising truths about herself and her history as she desperately tries to save Russia, Morozko, and the magical world she treasures. But she may not be able to save them all.
"I am a witch,'' said Vasya. Blood was running down her hand now, spoiling her grip. "I have plucked snowdrops at Midwinter, died at my own choosing, and wept for a nightingale. Now I am beyond prophecy." She caught his knife on the crosspiece of hers, hilt to hilt. "I have crossed three times nine realms to find you, my lord. And I find you at play, forgetful."
Katherine Arden's Winternight Trilogy have been some of my favorite fantasy books in recent years, and I find myself recommending them to friends and readers everywhere because of their world building, their characters, and the fairy tale qualities upon which each book explores. The first book, The Bear and the Nightingale, has a slower start that builds into a magnificent, magical Russian setting. The second book, The Girl in the Tower, continues Vasya's story and sets up for the satisfying conclusion in The Winter of the Witch.
I loved the intersection of fantasy and Russian history, the strength of the female characters, the quiet scenes interspersed with the highly emotional or violent scenes. I thoroughly enjoyed the relationship between Vasya and Morozov, because their dynamic is a deep, dark, frisson. The scenes between Vasya and Morozov are intense and beautifully written, and I wish there was more about him, too. Vasya by herself, this time, seemed to be a little distanced from the character in the first two books, but I also wonder that it's because she has been through so much that she's in dissonance from herself, too.
Overall, I was highly satisfied with the story, and I think it's rare that the third book in a trilogy holds up and is even better than the first two installments. It's an excellent meld of fantasy and history and how a single person can unite a country, for better or worse.
Thank you to Netgalley and Del Rey Books for a review copy! All opinions are my own.