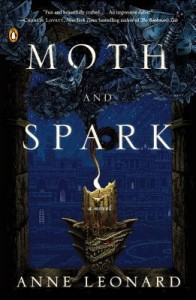 Title:

Moth and Spark

by Anne Leonard
Published by Penguin
Published: December 30th 2014
Genres: Fiction, Fantasy
Pages: 384
Format: Trade Paper
Source: Purchased
Amazon, Book Depository
Goodreads


He burned for her, and she for him, and it was as unstoppable as rain in spring.
I expected more dragons. There weren't enough dragons. As described in the back cover summary, Prince Corin is summoned and entrusted to free the dragons from a powerful neighboring country. He meets a young woman, Tam, who discovers her ability to see beyond while staying with the court at the royal castle. Ok, that seems perfectly fantasy enough. Some snippets from reviews in the first few pages also name the styles of Jane Austen's novels and William Golding's The Princess Bride. Awesome, right? Because I do enjoy those.
Ehhh. I wish this novel had some more advertising about the romance. It's definitely a fantasy romance. It's got fantastical elements in it, but it's mostly about the instant romance between Corin and Tam. I don't find instant romances in books all that believable, and I find it difficult to believe those romances will last longer than the span of time in whatever book in which it happens. With the references to dragons and politics, I was hoping for more of that. Not so dramatic as A Song of Ice and Fire, but something with a little more heft at least. Moth and Spark reads like endless court gossip.
However, once I realized I was in for a romance, it ended up being a pretty decent standalone novel. It's light, it's fluffy, it's an escape from everything else, which is what some novels are excellent for. I think I liked it more for it being a standalone because I don't think I'd read the rest in the series just because it isn't something I expected. Anne Leonard's a solid writer, and she can capture dialogue and romance well without it being too cheesy (although I will admit there are several moments of cheese that I rolled my eyes at). I just wanted more dragons, because I thought her dragon construction was incredibly interesting!