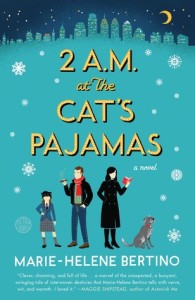 Title:

2 A.M. at The Cat's Pajamas

by Marie-Helene Bertino
Published by Broadway Books
Published: October 27th 2015
Genres: Fiction
Pages: 288
Format: Trade Paper
Source: Blogging for Books
Amazon, Book Depository
Goodreads


If you are anything other than humbled in the presence of love, you are not in the presence of love.
Marie-Helene Bertino's writing is incredibly fresh and free-flowing, almost like jazz itself. It feels timeless it the sense that this story could have happened in the fifties or sixties or in contemporary times. There are very few details that suggest that this novel happens in the 2010s (I think there is only one mention of a touch screen phone). Because of that timelessness, the novel reads like a dream sequence. It's effective and transporting.
This novel takes place over the span of a single day, from seven in the morning of Christmas Eve eve to seven in the morning of Christmas Eve. It follows a handful of interconnected characters, but it seemed to lack a deeper focus in characterization. When it ended, I wanted to know more about who these characters are and what happens in the coming year. I wanted to read more about Madeleine, the nine year old girl who doesn't take shit from anybody. I'd really like to read about who she becomes when she grows up, because I think it would be a fascinating companion piece.
Overall, I enjoyed it. It's a great novel about what happens between ends and new beginnings, and sometimes that's exactly the novel we need to read.
A copy of this book was provided for review by Blogging For Books. All opinions are my own.