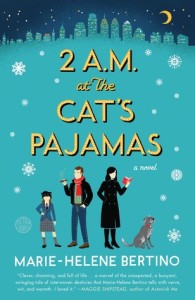 Title:

2 A.M. at The Cat's Pajamas

by Marie-Helene Bertino
Published by Broadway Books
Published: October 27th 2015
Genres: Fiction
Pages: 288
Format: Trade Paper
Source: Blogging for Books
Buy: Bookshop(afflilate link)
Goodreads


An enchanting and staggeringly original debut novel about one day in the lives of three unforgettable characters Madeleine Altimari is a smart-mouthed, rebellious nine-year-old who also happens to be an aspiring jazz singer. Still mourning the recent death of her mother, and caring for her grief-stricken father, she doesn't realize that on the eve of Christmas Eve she is about to have the most extraordinary day—and night—of her life. After bravely facing down mean-spirited classmates and rejection at school, Madeleine doggedly searches for Philadelphia's legendary jazz club The Cat's Pajamas, where she's determined to make her on-stage debut. On the same day, her fifth grade teacher Sarina Greene, who's just moved back to Philly after a divorce, is nervously looking forward to a dinner party that will reunite her with an old high school crush, afraid to hope that sparks might fly again. And across town at The Cat's Pajamas, club owner Lorca discovers that his beloved haunt may have to close forever, unless someone can find a way to quickly raise the $30,000 that would save it. As these three lost souls search for love, music and hope on the snow-covered streets of Philadelphia, together they will discover life's endless possibilities over the course of one magical night. A vivacious, charming and moving debut, 2 A.M. at The Cat's Pajamas will capture your heart and have you laughing out loud.
If you are anything other than humbled in the presence of love, you are not in the presence of love.
Marie-Helene Bertino's writing is incredibly fresh and free-flowing, almost like jazz itself. It feels timeless it the sense that this story could have happened in the fifties or sixties or in contemporary times. There are very few details that suggest that this novel happens in the 2010s (I think there is only one mention of a touch screen phone). Because of that timelessness, the novel reads like a dream sequence. It's effective and transporting.
This novel takes place over the span of a single day, from seven in the morning of Christmas Eve eve to seven in the morning of Christmas Eve. It follows a handful of interconnected characters, but it seemed to lack a deeper focus in characterization. When it ended, I wanted to know more about who these characters are and what happens in the coming year. I wanted to read more about Madeleine, the nine year old girl who doesn't take shit from anybody. I'd really like to read about who she becomes when she grows up, because I think it would be a fascinating companion piece.
Overall, I enjoyed it. It's a great novel about what happens between ends and new beginnings, and sometimes that's exactly the novel we need to read.
A copy of this book was provided for review by Blogging For Books. All opinions are my own.