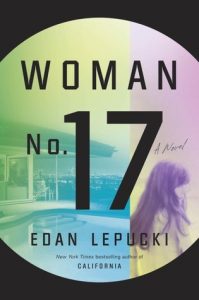 Title:

Woman No. 17

by Edan Lepucki
Published by Hogarth Press
Published: May 9th 2017
Genres: Fiction
Pages: 320
Format: Hardcover
Source: Book Sparks
Goodreads


"You think you know how a story begins, or how it's going to turn out, especially when it's your own. You don't."
I'm participating in Book Sparks's Summer Reading Challenge this year, and Edan Lepucki's Woman No. 17 is one of the books I read as part of the challenge that I couldn't put down. I'm branching out of my reading comfort zones by participating in this challenge, and I think it's helping me figure out why it is I gravitate toward certain genres and styles of fiction and it's also showing me that branching out every now and then is an amazing palate cleanser.
Woman No. 17 explores the upsides and pitfalls of self-expression in the name of art, and I liked that S was not that likable of a character from the beginning, but she's also a character a reader can empathize with because I feel like so many of us go through all of those loops and twists to try to understand our parents without actually going to the source because that's awkward and uncool. It seems more interesting to our weird brains to do the roundabout thing and figure things out for ourselves when a lot of the time, our answers can be easily gained with time and the right questions. Anyway, I digress.
S, following in her mother's footsteps, becomes a nanny to Lady, a woman living in southern California, and her youngest son. S finds out that Lady has an adult son, Seth, who is mute, and it's revealed throughout the novel that Lady has a difficult time letting Seth go and grow up. The dynamic between S's projection of her vision of her mother's self, Lady, and Seth becomes pretty predictable by the middle of the novel when Seth and S begin communicating with each other without Lady's knowledge. I think this is where the novel ultimately lost me because it was so predictable, especially in the connection between S and Seth by the end, and I felt that just one more twist in the whole thing might have made me enjoy this book that much more.
There's a lot of drinking and a scene of animal abuse that caught me off guard (I'm not generally disturbed by these things, but it is worth mentioning for those who might be), but the writing itself is sharp, well-paced, and kept me reading even though I found myself rolling my eyes at S's behavior. Lepucki shows her familiarity with the southern California landscape and the sorts of people who inhabit it and the people it attracts, and I really enjoyed that aspect of it. The characters, while ridiculous to me at times, seemed realistic within the setting and I didn't feel as if it was completely unbelievable. Woman No. 17 is an enjoyable summer read that will take you away from the world for a few hours and leave you feeling quite entertained.
I received a copy of this book from Book Sparks and the publisher for review! All opinions are my own.