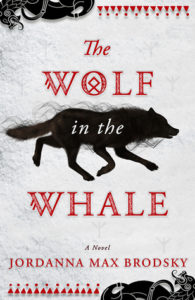 Title:

The Wolf in the Whale

by Jordanna Max Brodsky
Published by Redhook
Published: January 29th 2019
Genres: Fantasy, Historical
Pages: 544
Format: eBook
Source: Netgalley
Goodreads


A young Inuit shaman's epic quest for survival in the frozen lands of North America in 1000 AD.

Born with the soul of a hunter and the language of the gods, Omat is destined to become a shaman like her grandfather. To protect her people, she invokes the spirits of the sky, the sea, and the air.

But the gods have stopped listening, the seals won't come, and Omat's family is starving.

Desperate to save them, Omat journeys through the icy wastes, fighting for survival with every step. When she meets a Viking warrior and his strange new gods, together they set in motion a conflict that could shatter her world...or save it.

The Wolf in the Whale is a powerful tale of magic, discovery and adventure, featuring an unforgettable narrator ready to confront the gods themselves.
Brodsky's novel,
The Wolf in the Whale
, was an incredibly immersive read from the get-go. After reading the first few chapters and getting familiar with the setting and the story, I didn't want to stop reading it. The story follows Omat of an Inuit tribe through their journey across land and through life. I loved the gender fluidity of Omat, and their struggles in finding their identity. When they meet a Norseman named Brandr, Omat struggles even more with their identity and their place in the world at large and in their own personal world.
The Wolf in the Whale is violent, full of terrible things that happen to Omat and their people, and to everyone Omat meets. It's a reminder that the past was violent in people conquering other people and in people colonizing "new" worlds, and Brodsky doesn't shy away from any of it. None of what happens to the characters in this book feels like it was thrown in as a plot device. Omat and Brandr felt real, their cultures and mythologies felt immediate and real, and the brutalities of the past balanced with the more tender, personal moments.
I don't want to give too much away in this review because so much of what happens is so integral to the story, but let it be known that this is a hefty book and once I started reading it, I got hooked and couldn't put it down. If you enjoy rich, expansive historical fantasies with memorable characters and mythology so real you can almost taste it, don't pass up reading The Wolf in the Whale.
A complimentary copy of the book was provided to me for review via Netgalley and the publisher. All opinions are my own.