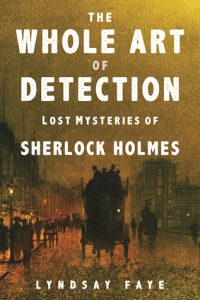 Title:

The Whole Art of Detection: Lost Mysteries of Sherlock Holmes

by Lyndsay Faye
Published by Mysterious Press
Published: March 7th 2017
Genres: Mystery
Pages: 352
Format: Hardcover
Source: Purchased
Goodreads


Internationally bestselling author Lyndsay Faye was introduced to the Sherlock Holmes mysteries when she was ten years old and her dad suggested she read Sir Arthur Conan Doyle's short story The Adventure of the Speckled Band. She immediately became enamored with tales of Holmes and his esteemed biographer Dr. John Watson, and later, began spinning these quintessential characters into her own works of fiction—from her acclaimed debut novel, Dust and Shadow, which pitted the famous detective against Jack the Ripper, to a series of short stories for the Strand Magazine, whose predecessor published the very first Sherlock Holmes short story in 1891.

Faye's best Holmes tales, including two new works, are brought together in The Whole Art of Detection, a stunning collection that spans Holmes's career, from self-taught young upstart to publicly lauded detective, both before and after his faked death over a Swiss waterfall in 1894. In The Lowther Park Mystery, the unsociable Holmes is forced to attend a garden party at the request of his politician brother and improvises a bit of theater to foil a conspiracy against the government. The Adventure of the Thames Tunnel brings Holmes's attention to the baffling murder of a jewel thief in the middle of an underground railway passage. With Holmes and Watson encountering all manner of ungrateful relatives, phony psychologists, wronged wives, plaid-garbed villains, and even a peculiar species of deadly red leech, The Whole Art of Detection is a must-read for Sherlockians and any fan of historical crime fiction with a modern sensibility.
In the broad light of day, I could not give his tale nearly so much credence as I had granted it when sitting rapt before a midnight fireplace whilst the tempest without erased the natural world.
One of the things I love about Lyndsay Faye's books are that they evoke the atmosphere of the period of which she writes. Especially her Sherlock Holmes pastiches. Somehow she manages to capture Doyle's style with a sense of freshness that especially makes The Whole Art of Detection really feel like lost Holmes mysteries. After reading Dust and Shadow and Jane Steele, I wanted to read more of her works and jumped at purchasing The Whole Art of Detection not long after it was released. I read a story or two here and there for the next couple of months because I wanted to savor it, and I'm glad I did. If you enjoyed the original stories, this collection of stories feels like a more intimate peek into the lives of Holmes and Watson. Where the originals seemed to gloss over the "domestic stuff and conversations," this collection doesn't shy from it.
A few of the stories that stood out to me were the these: "Memoranda Upon the Gaskell Blackmailing Dilemma" takes place during The Hound of the Baskervilles and is Sherlock Holmes's perspective while he takes leave from the Watsons during that story. It's so much fun to read a story from another character's perspective, and even more so to have that perspective be the elusive Holmes himself.  "An Empty House" is heartbreaking and bridges the gap between the Reichenbach Fall and Holmes's return. "The Adventure of the Memento Mori" is creepy, thrilling, and shows us readers once again that Holmes has a heart underneath that cold, calculating exterior he tries to project. "The Adventure of the Lightless Maiden" captures Doyle's obsession with the supernatural, and I thought it was just really well done overall.
All of these stories feel at once rooted in time and timeless, and Faye manages this with her effortless, captivating writing. If you're a fan of Sherlock Holmes in any capacity and love a good historical mystery, read this right away.