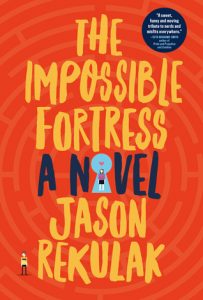 Title:

The Impossible Fortress

by Jason Rekulak
Published by Simon & Schuster
Published: February 7th 2017
Genres: Fiction
Pages: 285
Format: eBook
Source: Netgalley
Goodreads


It's the 1980s, computer programming is starting to become a 
thing
, and Billy and his friends are obsessed with getting their hands on a copy of 
Playboy
featuring Vanna White. While at the store while trying to help his friends conceive a plan in which to buy said 
Playboy
magazine, he and his friends concoct a scheme that involves the shop owner's daughter, Mary, and feigning interest in her to get her to get them that magazine. Billy volunteers, and the two become friends once Billy discovers that Mary is interested in computer programming, too.
I really wanted to like this book more than I did because it looked like something that's right up my alley: computer programmers, the 80s, a cute growing up story. However, it ended up taking a weird turn about three-quarters of the way through the book that just seemed uncharacteristic and unrelated to all of the build-up that had happened in the rest of the book. While the main characters are fourteen or so, each of the boys can be unbelievably cruel in one way or another. Billy's cruelty is the most unbelievable and is the catalyst for the finale, and then the consequences are just pushed away as if none of it really mattered.
The Impossible Fortress started out cute, light, and enjoyable, but ultimately took a turn for the worse. It's a shame because it had so much potential!
I received a copy of this book for review through Netgalley. All opinions are my own.