THE EARTH IS A SPACESHIP, AND WE'RE ALL SPACE TRAVELERS. – Mike Massimino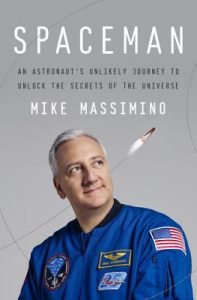 Title:

Spaceman: An Astronaut's Unlikely Journey to Unlock the Secrets of the Universe

by Mike Massimino
Published by Crown Archetype
Published: October 4th 2016
Genres: Memoir
Pages: 320
Format: Hardcover
Source: Blogging for Books
Goodreads


I have to admit, I'm totally out of the loop with the more recent NASA astronauts, and this memoir of Mike Massimino's makes me want to read everything about the space program that's happened since the beginning of the 2000s. Like Massimino, I was really interested in space and space travel as a kid, fascinated by Aldrin and Armstrong and engrossed with science fiction. Massimino recalls when he looks back on the earth from the Hubble Space Telescope, he says, "The Earth is a spaceship, and we're all space travelers." That little bit of wonder he showed then brought back the similar kind of wonder to me as I had when I was younger.
In Spaceman, Massimino really emphasizes the fact that he couldn't have done anything he's done without the help of his family, his friends, and his team. Anything great is accomplished with the help of others, and that's something where I feel like a lot of us, including myself, tend to lose focus when we're so concerned about getting to the destination that we tend to forget who is there with us along the way. It's also another reminder that no matter how many times you get told no, get rejected, denied, anything, if it's something you want to do, keep going for it. Find out what you need to do to succeed, get back up on your feet, and try again. Sometimes we're told no because it's not the right time, but that doesn't always mean it will never be the right time.
Massimino's writing is clear, engaging, and appeals to a wide range of audiences. Difficult subjects are presented clearly and thoroughly without the technical jargon often found in academic pieces. When he has to use technical jargon, Massimino makes an effort to explain what it means, which is helpful for someone like me who has no background in engineering. Spaceman's conversational tone felt like I just spent an afternoon or two getting to know Massimino one-on-one. He approaches the difficult task of describing the aftermath of the Space Shuttle Colombia with candor and respect, and I hadn't known that Massimino's and his crew's launch was switched with that particular launch, and it made everything feel so much more real an close to the heart.
Massimino brings a lot of heart and humanity to the recollections of his journey to becoming and astronaut, being an astronaut, and discovering what it actually means to be an astronaut. Being a leader doesn't always mean keeping everything in perfect order all the time. Sometimes it means trying your best to keep your team's spirits up even in the most difficult times while performing the most herculean tasks.
Thank you to Blogging for Books and Crown Publishing for sending me a copy to read and review. All opinions are my own.