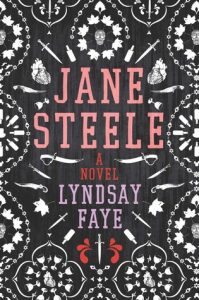 Title:

Jane Steele

by Lyndsay Faye
Published by G.P. Putnam's Sons
Published: March 22nd 2016
Genres: Fiction
Pages: 416
Format: Hardcover
Source: Library
Goodreads


Reader, I murdered him
.
I've never read Faye's work before, and I was going to put off reading Jane Steele until I'd read a few of her others, but when I saw the book on the library shelves, I grabbed it, sat down, and read it in a day. I wouldn't necessarily call this a Jane Eyre retelling, but it's certainly Jane Eyre-inspired, as evidenced from Jane Steele's fondness for the Charlotte Brontë novel.
Jane Steele's life follows a similar trajectory as the character Jane Eyre, and she finds comfort in her fictional counterpart. The major difference between Steele and Eyre is that while Eyre merely struggles and sometimes voices her discontent against the female imprisonment and injustice in society by men, Steele actually does something about it. And by doing something about it, she murders the offending men. She isn't a serial killer. She murders in self-defense, as a way to protect her life and the lives of others.
It's well-paced, vicious, atmospheric, and a little predictable if you're familiar with Jane Eyre's story. The way in which Faye writes makes you feel as if you're in the dirty heart of Victorian London. The biggest, most frustrating aspect of the entire thing was how forced Steele's relationship felt with Thornfield most of the time, almost as if Steele expected and forced her life to follow in Eyre's footsteps because that's what she was familiar with and that's where she found comfort. But there's a scene with Clarke that made me gasp and sigh and long for so much more development in that direction. That would have been the twist that earned that fifth star.
If you enjoy Jane Eyre and its many incarnations; Victoriana; and historical fiction with strong, deviant women, you'll surely find something to enjoy in Jane Steele.