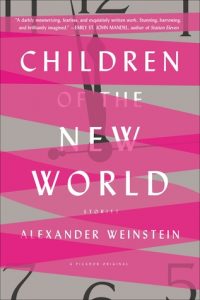 Title:

Children of the New World: Stories

by Alexander Weinstein
Published by Picador
Published: September 13th 2016
Genres: Fiction
Pages: 229
Format: eBook
Source: Netgalley
Goodreads


"If it's any consolation," says tech support, "they won't feel a thing; they're just data."
Alexander Weinstein's Children of the New World is a fantastic collection of speculative fiction stories. Each of the stories is incredibly engaging and explores different aspects of our future and technology's integration with our future. Each of the stories also explores the human relationship with technology and the positive or negative effects technology has on our hearts and our society. I rarely read short story collections in which I enjoy every story, and in this case, I enjoyed every single one and am left thinking about each one long after I've read it. I'm looking forward to reading more of Weinstein's work.
My favorite stories are "The Cartographers," "Children of the New World," and "Rocket Night," because they're immediate and more than once made me think what the fuck, this is going to happen in our immediate future.
The stories are both a nostalgic trip (because it feels like we've done this before and will do it again, and there's a pervading sense of longing) and a warning (because this is our future if we're not careful, and our future doesn't look so welcoming).
If you enjoyed Anthony Marra's The Tsar of Love and Techno, I think you'll enjoy reading these.
Thank you to Netgalley and Picador for a review copy!