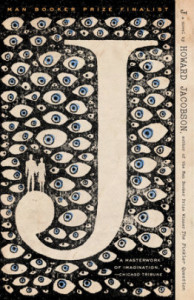 Title:

J

by Howard Jacobson
Published by Hogarth
Published: September 1st 2015
Genres: Fiction
Pages: 352
Format: Trade Paper
Source: Blogging for Books
Buy: Bookshop(afflilate link)
Goodreads


You are no different today from who you were a year ago, a month ago even. What's changed is how you appear. How you appear to yourself and how you will appear to the world. It's all illusion. Identity is nothing but illusion.
J took forever for me to read. FOR-EVER. Partially because I've been in a weird state of mind, but mostly because of the book itself. It's touted as dystopian fiction reminiscent of Orwell's 1984 and Huxley's Brave New World, but it just falls flat. I wanted to know more of WHAT HAPPENED, IF IT HAPPENED. I think I got spoiled by Atwood's Maddaddam trilogy in which she does reveal the backstory to everything throughout the course of the trilogy. J just trudged on disjointedly. Had it been about one hundred pages shorter, it might have been more engaging, but there were too many offshoots of irrelevance that distracted me from the main story at hand and left me disinterested for weeks at a time. Jacobson can write, however, and there are several sections in the novel that left me rereading more for the sake of grammar and sentence structure than for the story itself.
#
As an aside, I still haven't figured out what the "qualifications" for a Man Booker are. Either I should research this, or read more nominees and winners (which I should do anyway). I also think I'm getting tired of the whole view of "identity" from an older white male's point of view, which is probably another small reason I didn't personally get much out of this book.