Today's Top Ten Tuesday (a weekly meme hosted by The Broke and the Bookish) focuses on ten books recently added to our reading lists! I have a tendency to browse daily and add something daily, so here are some of the ones I'm most looking forward to reading. I won't give individual reasons why I've added these books because it's obvious I'm interested, but I've linked each one to its page on Goodreads and have listed a short summary of the book along with the cover!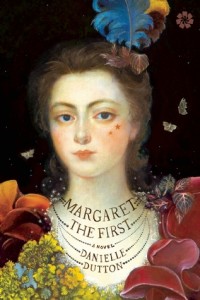 Margaret the First, by Danielle Dutton
Margaret the First dramatizes the life of Margaret Cavendish, the shy, gifted, and wildly unconventional 17th-century Duchess. The eccentric Margaret wrote and published volumes of poems, philosophy, feminist plays, and utopian science fiction at a time when "being a writer" was not an option open to women. As one of the Queen's attendants and the daughter of prominent Royalists, she was exiled to France when King Charles I was overthrown. As the English Civil War raged on, Margaret met and married William Cavendish, who encouraged her writing and her desire for a career. After the War, her work earned her both fame and infamy in England: at the dawn of daily newspapers, she was "Mad Madge," an original tabloid celebrity. Yet Margaret was also the first woman to be invited to the Royal Society of London—a mainstay of the Scientific Revolution—and the last for another two hundred years.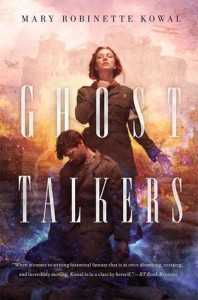 Ghost Talkers, by Mary Robinette Kowal
Ginger Stuyvesant, an American heiress living in London during World War I, is engaged to Captain Benjamin Hartshorne, an intelligence officer. Ginger is a medium for the Spirit Corps, a special Spiritualist force. Each soldier heading for the front is conditioned to report to the mediums of the Spirit Corps when they die so the Corps can pass instant information about troop movements to military intelligence.
Ginger and her fellow mediums contribute a great deal to the war efforts, so long as they pass the information through appropriate channels. While Ben is away at the front, Ginger discovers the presence of a traitor. Without the presence of her fiance to validate her findings, the top brass thinks she's just imagining things. Even worse, it is clear that the Spirit Corps is now being directly targeted by the German war effort. Left to her own devices, Ginger has to find out how the Germans are targeting the Spirit Corps and stop them. This is a difficult and dangerous task for a woman of that era, but this time both the spirit and the flesh are willing…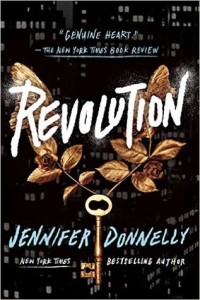 Revolution, by Jennifer Connolly
BROOKLYN: Andi Alpers is on the edge. She's angry at her father for leaving, angry at her mother for not being able to cope, and heartbroken by the loss of her younger brother, Truman. Rage and grief are destroying her. And she's about to be expelled from Brooklyn Heights' most prestigious private school when her father intervenes. Now Andi must accompany him to Paris for winter break.
PARIS: Alexandrine Paradis lived over two centuries ago. She dreamed of making her mark on the Paris stage, but a fateful encounter with a doomed prince of France cast her in a tragic role she didn't want—and couldn't escape.
Two girls, two centuries apart. One never knowing the other. But when Andi finds Alexandrine's diary, she recognizes something in her words and is moved to the point of obsession. There's comfort and distraction for Andi in the journal's antique pages—until, on a midnight journey through the catacombs of Paris, Alexandrine's words transcend paper and time, and the past becomes suddenly, terrifyingly present.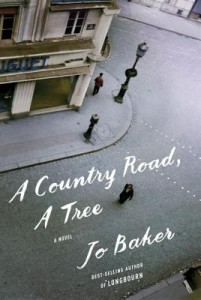 A Country Road, A Tree, by Jo Baker
When war breaks out in Europe in 1939, a young, unknown writer journeys from his home in neutral Ireland to conflict-ridden Paris and is drawn into the maelstrom. With him we experience the hardships yet stubborn vibrancy at the heart of Europe during the Nazis' rise to power; his friendships with James Joyce and other luminaries; his quietly passionate devotion to the Frenchwoman who will become his lifelong companion; his secret work for the French Resistance and narrow escapes from the Gestapo; his flight from occupied Paris to the countryside; and the rubble of his life after liberation. And through it all we are witness to workings of a uniquely brilliant mind struggling to create a language that will express his experience of this shattered world. Here is a remarkable story of survival and determination, and a portrait of the extremes of human experience alchemized into timeless art.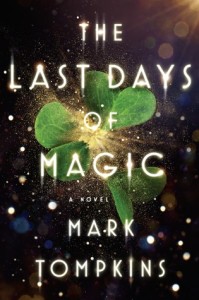 The Last Days of Magic, by Mark Tompkins
What became of magic in the world? Who needed to do away with it, and for what reasons? Drawing on myth, legend, fairy tales, and Biblical mysteries, The Last Days of Magic brilliantly imagines answers to these questions, sweeping us back to a world where humans and magical beings co-exist as they had for centuries.
Aisling, a goddess in human form, was born to rule both domains and—with her twin, Anya—unite the Celts with the powerful faeries of the Middle Kingdom. But within medieval Ireland interests are divided, and far from its shores greater forces are mustering. Both England and Rome have a stake in driving magic from the Emerald Isle. Jordan, the Vatican commander tasked with vanquishing the remnants of otherworldly creatures from a disenchanted Europe, has built a career on such plots. But increasingly he finds himself torn between duty and his desire to understand the magic that has been forbidden.
As kings prepare, exorcists gather, and divisions widen between the warring clans of Ireland, Aisling and Jordan must come to terms with powers given and withheld, while a world that can still foster magic hangs in the balance. Loyalties are tested, betrayals sown, and the coming war will have repercussions that ripple centuries later, in today's world—and in particular for a young graduate student named Sara Hill.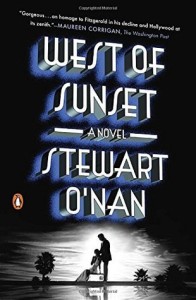 West of Sunset, by Stewart O'Nan
In 1937, F. Scott Fitzgerald was a troubled, uncertain man whose literary success was long over. In poor health, with his wife consigned to an asylum and his finances in ruin, he struggled to make a new start as a screenwriter in Hollywood.
Those last three years of Fitzgerald's life are the focus of Stewart O'Nan's graceful and elegiac novel West of Sunset. With flashbacks to Fitzgerald's glamorous Jazz Age past, the story follows him as he arrives on the MGM lot, falls in love with brassy gossip columnist Sheilah Graham, begins work on The Last Tycoon, and tries to maintain a semblance of family life with the absent Zelda and their daughter, Scottie. The Golden Age of Hollywood is brought vividly to life through the novel's romantic cast of characters, from Dorothy Parker and Ernest Hemingway to Humphrey Bogart. Written with striking grace and subtlety, this is a wise and intimate portrait of a man trying his best to hold together a world that's flying apart.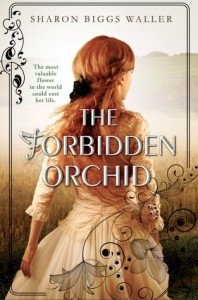 The Forbidden Orchid, by Sharon Biggs Waller
Staid, responsible Elodie Buchanan is the eldest of ten sisters living in a small English market town in 1861. The girls' father is a plant hunter, usually off adventuring through the jungles of China.
Then disaster strikes: Mr. Buchanan fails to collect an extremely rare and valuable orchid, meaning that he will be thrown into debtors' prison and the girls will be sent to the orphanage or the poorhouse. Elodie's father has one last chance to return to China, find the orchid, and save the family—and this time, thanks to an unforeseen twist of fate, Elodie is going with him. Elodie has never before left her village, but what starts as fear turns to wonder as she adapts to seafaring life aboard the tea clipper The Osprey, and later to the new sights, dangers, and romance of China.
But even if she can find the orchid, how can she find herself now that staid, responsible Elodie has seen how much the world has to offer?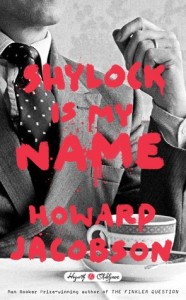 Shylock is My Name, by Howard Jacobson
Man Booker Prize-winner Howard Jacobson brings his singular brilliance to this modern re-imagining of one of Shakespeare's most unforgettable characters: Shylock
Winter, a cemetery, Shylock. In this provocative and profound interpretation of "The Merchant of Venice," Shylock is juxtaposed against his present-day counterpart in the character of art dealer and conflicted father Simon Strulovitch. With characteristic irony, Jacobson presents Shylock as a man of incisive wit and passion, concerned still with questions of identity, parenthood, anti-Semitism and revenge. While Strulovich struggles to reconcile himself to his daughter Beatrice's "betrayal" of her family and heritage – as she is carried away by the excitement of Manchester high society, and into the arms of a footballer notorious for giving a Nazi salute on the field – Shylock alternates grief for his beloved wife with rage against his own daughter's rejection of her Jewish upbringing. Culminating in a shocking twist on Shylock's demand for the infamous pound of flesh, Jacobson's insightful retelling examines contemporary, acutely relevant questions of Jewish identity while maintaining a poignant sympathy for its characters and a genuine spiritual kinship with its antecedent—a drama which Jacobson himself considers to be "the most troubling of Shakespeare's plays for anyone, but, for an English novelist who happens to be Jewish, also the most challenging."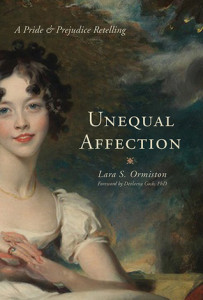 Unequal Affections: A Pride and Prejudice Retelling, by Lara S. Ormiston
When Elizabeth Bennet first knew Mr. Darcy, she despised him and was sure he felt the same. Angered by his pride and reserve, influenced by the lies of the charming Mr. Wickham, she never troubled herself to believe he was anything other than the worst of men–until, one day, he unexpectedly proposed.Mr. Darcy's passionate avowal of love causes Elizabeth to reevaluate everything she thought she knew about him. What she knows is that he is rich, handsome, clever, and very much in love with her. She, on the other hand, is poor, and can expect a future of increasing poverty if she does not marry. The incentives for her to accept him are strong, but she is honest enough to tell him that she does not return his affections. He says he can accept that–but will either of them ever be truly happy in a relationship of unequal affection?
Diverging from Jane Austen's classic novel Pride and Prejudice at the proposal in the Hunsford parsonage, this story explores the kind of man Darcy is, even before his "proper humbling," and how such a man, so full of pride, so much in love, might have behaved had Elizabeth chosen to accept his original proposal.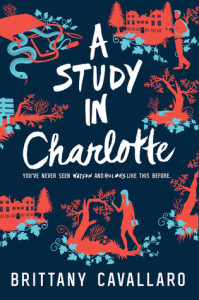 A Study in Charlotte, by Brittany Cavallaro
The last thing sixteen-year-old Jamie Watson–writer and great-great-grandson of the John Watson–wants is a rugby scholarship to Sherringford, a Connecticut prep school just an hour away from his estranged father. But that's not the only complication: Sherringford is also home to Charlotte Holmes, the famous detective's enigmatic, fiercely independent great-great-granddaughter, who's inherited not just his genius but also his vices, volatile temperament, and expertly hidden vulnerability. Charlotte has been the object of his fascination for as long as he can remember–but from the moment they meet, there's a tense energy between them, and they seem more destined to be rivals than anything else.
Then a Sherringford student dies under suspicious circumstances ripped straight from the most terrifying of the Holmes stories, and Jamie and Charlotte become the prime suspects. Convinced they're being framed, they must race against the police to conduct their own investigation. As danger mounts, it becomes clear that nowhere is safe and the only people they can trust are each other.
---
Are any of these books on your reading list?