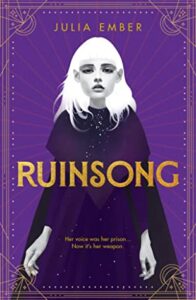 Title:

Ruinsong

by Julia Ember
Published by Farrar, Straus and Giroux (BYR)
Published: November 24th, 2020
Genres: Young Adult, Fantasy
Pages: 368
Format: ARC
Source: Netgalley
Buy: Bookshop(afflilate link)
Goodreads


In Julia Ember's dark and lush LGBTQ+ romantic fantasy Ruinsong, two young women from rival factions must work together to reunite their country, as they wrestle with their feelings for each other.

Her voice was her prison…Now it's her weapon.

In a world where magic is sung, a powerful mage named Cadence has been forced to torture her country's disgraced nobility at her ruthless queen's bidding.

But when she is reunited with her childhood friend, a noblewoman with ties to the underground rebellion, she must finally make a choice: Take a stand to free their country from oppression, or follow in the queen's footsteps and become a monster herself.
Ruinsong
is a YA fantasy in which the voice is a central part of the magic system. I'm not familiar at all with
The Phantom of the Opera
, but apparently this is being marketed as a queer
The Phantom of the Opera
retelling. However, I wanted to read it because it's sapphic fantasy and that cover is amazing.
Cadence is a mage who has been forced to use her voice to torture her country's nobility at the queen's bidding to make them compliant. When she and her family are discovered to be part of the rebellion, Remi is imprisoned and discovers that her childhood friend, Cadence, is no longer the person she remembers. Remi's return helps Cadence find her voice (literally and figuratively) underneath the ruthless, power-hungry queen's gaze, and they both navigate the more conservative nobility's society compared to the more open outlook of the rebellion.
I enjoyed reading this! I don't think the concepts of the novel were anything new or revolutionary, but it was well done for what it was and I loved the main characters a lot. The magic system is the most developed part of the world-building, but with the power of the voice being such a central theme to the story, I didn't mind that I didn't know much about the world in which they inhabited outside of the palace because I think I would have felt that knowing much more would have been too much. All I know is that I would have devoured this even more fifteen years ago, and I'm so glad that readers younger than me have the opportunity to read a fantasy book like this, with wlw, fancy dresses, high stakes, and learning how to harness one's voice for the right thing, no matter how difficult it seems to be.
Many thanks to Farrar, Straus and Giroux (BYR) for a review copy! All opinions are my own.