I have finally finished the graphics for the new blog style, and I'm really happy with them! It's been since 2018 since I really updated anything on here, and I'm going to be focusing more on content pages here in the upcoming weeks. Sometimes a small refresh is all you need to get some blogging inspiration!
Today's Little List of Reviews features three reads I checked out from my new-to-me library, two of which I didn't particularly like, and one that I did!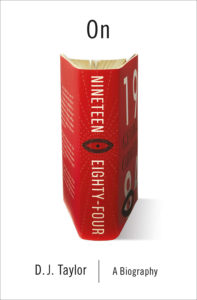 Title:

On Nineteen Eighty-Four: The Story of George Orwell's Masterpiece

by D.J. Taylor
Published by Harry N. Abrams
Published: October 22nd 2019
Genres: Non-Fiction
Pages: 256
Format: Hardcover
Source: Library
Goodreads


From the author of the definitive biography of George Orwell, a captivating account of the origin and enduring power of his landmark dystopian novel
Since its publication nearly 70 years ago, George Orwell's 1984 has been regarded as one of the most influential novels of the modern age. Politicians have testified to its influence on their intellectual identities, rock musicians have made records about it, TV viewers watch a reality show named for it, and a White House spokesperson tells of "alternative facts." The world we live in is often described as an Orwellian one, awash in inescapable surveillance and invasions of privacy.
On 1984 dives deep into Orwell's life to chart his earlier writings and key moments in his youth, such as his years at a boarding school, whose strict and charismatic headmaster shaped the idea of Big Brother. Taylor tells the story of the writing of the book, taking readers to the Scottish island of Jura, where Orwell, newly famous thanks to Animal Farm but coping with personal tragedy and rapidly declining health, struggled to finish 1984. Published during the cold war—a term Orwell coined—Taylor elucidates the environmental influences on the book. Then he examines 1984's post-publication life, including its role as a tool to understand our language, politics, and government.
In a current climate where truth, surveillance, censorship, and critical thinking are contentious, Orwell's work is necessary. Written with resonant and reflective analysis, On 1984 is both brilliant and remarkably timely.
D.J. Taylor's
On Nineteen Eighty-Four
is a short look at the history surrounding George Orwell's
Nineteen Eighty-Four
. While I initially found the premise interesting, the content of it actually fell irritatingly short, refusing to address or acknowledge Wikileaks, Snowden, Assange, a lot of the current surveillance issues, and choose instead to focus on the current president/administration and literally no one else? Yes, the current administration is frustrating and obviously a driving factor behind this book, but you have to include what comes before it that also contributed to the environment in which we exist.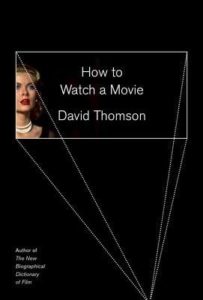 Title:

How to Watch a Movie

by David Thomson
Published by Knopf
Published: November 3rd 2015
Genres: Non-Fiction
Pages: 242
Format: Hardcover
Source: Library
Goodreads


From one of the most admired critics of our time, brilliant insights into the act of watching movies and an enlightening discussion about how to derive more from any film experience.
Since first publishing his landmark Biographical Dictionary of Film in 1975 (recently released in its sixth edition), David Thomson has been one of our most trusted authorities on all things cinema. Now, he offers his most inventive exploration of the medium yet: guiding us through each element of the viewing experience, considering the significance of everything from what we see and hear on screen--actors, shots, cuts, dialogue, music--to the specifics of how, where, and with whom we do the viewing. With customary candor and wit, Thomson delivers keen analyses of a range of films from classics such as Psychoand Citizen Kane to contemporary fare such as 12 Years a Slave and All Is Lost, revealing how to more deeply appreciate both the artistry and (yes) manipulation of film, and how watching movies approaches something like watching life itself. Discerning, funny, and utterly unique, How to Watch a Movie is a welcome twist of the classic proverb: Give a movie fan a film, she'll be entertained for an hour or two; teach a movie fan to watch, his experience will be enriched forever.
From the Hardcover edition.
I have been more and more interested in film as a medium due to a friend of mine, so lately I've been doing a little research into books I can get my hands on, and
How To Watch a Movie
caught my eye with the description and promises of revealing "how to watch a movie." However, what's on the tin doesn't describe the actual contents of the book: a long, meandering blabbering of some guy's experiences with movies he watched as a kid with little to nothing else? It read like some old guy's self-important film subreddit posts.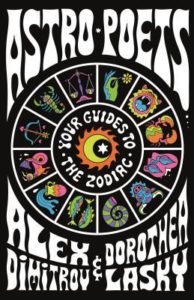 Title:

Astro Poets: Your Guides to the Zodiac

by Alex Dimitrov, Dorothea Lasky
Published by Flatiron Books
Published: October 29th 2019
Genres: Non-Fiction
Pages: 336
Format: Hardcover
Source: Library
Goodreads


From the online phenomenons the Astro Poets comes the first great astrology primer of the 21st century.
Full of insight, advice and humor for every sign in the zodiac, the Astro Poets' unique brand of astrological flavor has made them Twitter sensations. Their long-awaited first book is in the grand tradition of Linda Goodman's Sun Signs, but made for the world we live in today.
In these pages the Astro Poets help you see what's written in the stars and use it to navigate your friendships, your career, and your very complicated love life. If you've ever wondered why your Gemini friend won't let you get a word in edge-wise at drinks, you've come to the right place. When will that Scorpio texting "u up?" at 2AM finally take the next step in your relationship? (Hint: they won't). Both the perfect introduction to the twelve signs for the astrological novice, and a resource to return to for those who already know why their Cancer boyfriend cries during commercials but need help with their new whacky Libra boss, this is the astrology book must-have for the twenty-first century and beyond.
I love the Astro Poets twitter and find their day-to-day tweets hilarious and their weekly predictions interesting and heart-felt. The book is a great companion to their twitter and filled with much of the same insight and humor that I had hoped for. I borrowed this from the library and I'm glad I did, because it is one of those read & flip through once sort of books.