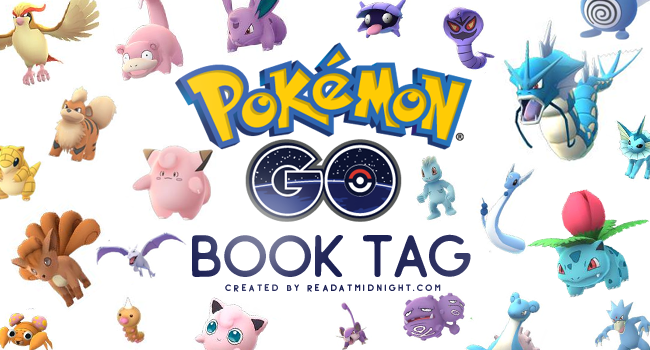 I stumbled across Aentee's Pokémon Go Book Tag and decided immediately I wanted to do it, because I've been totally obsessed with the app (I even caught some in the Bahamas!)! I don't know who to tag specifically, but if you want to do it, tag, you're it!

I've been reading for as long as I can remember, but the books that really got me wanting to read more beyond what was given to me were the Dear America books! Does anyone remember those? I was in the fourth grade when I read the first one, and I used to get them through the Scholastic book orders. They were fictional diaries of girls in different periods of history, and I was obsessed. I read the first three in that series over and over and over.

Jane Eyre, to nobody's surprise. I'm going to read the rest of the Brontë works in this year and the next because I need to know more of their inner lives after reading Claire Harman's biography of Jane (and her siblings).

Maybe A Song of Ice and Fire? I'll read them all eventually, maybe once Winds of Winter is released or something. Otherwise, there are several series/books that I avoid not just because I see it everywhere but because I have no interest in ever reading them for personal reasons.

I don't have a specific answer for this because it's in a lot of stuff I've enjoyed, but I'll read nearly anything that has a Beauty and the Beast/forced cohabitation and oh look we've fallen in love trope. I don't know why but it gets me every time. It's seen in stuff like Sarah J. Maas's A Court of Thorns and Roses series, Charlotte Brontë's Jane Eyre, and Robin McKinley's Beauty/Rose Daughter.

Brandon Sanderson's The Stormlight Archive series. Those books are literal bricks, okay. I haven't finished the rest of Diana Gabaldon's Outlander series for this reason, too.

Lavie Tidhar's Central Station was the last book to keep me up past my bedtime. I had to know more about those data vampires and where he took the characters in the world he created. Dracula, when I first read it years and years ago, kept me up out of sheer horror.

Elizabeth Bennet and Fitzwilliam Darcy. Jane Eyre and Edward Rochester. Yvaine and Tristran Thorne. I have more but these are my top three!

I blazed through Pierce Brown's Red Rising! I really enjoyed the world building. It wasn't a new concept, but I thought it was well-executed, and I can't wait to read the rest of the trilogy!

I WANTED TO SAY HARRY POTTER UNTIL I STARTED READING THE CURSED CHILD. (I'm still excited for Fantastic Beasts, though, not gonna lie.) So… let's just say I'll read all the Star Wars and Star Trek spin-offs until the end of time. Chuck Wendig's Aftermath is so much fun!

Some of these aren't "new" debuts, but I haven't read them yet: Brittany Cavallaro's A Study in Charlotte, Paula Lichtarowicz's The First Book of Calamity Leek, Yaa Gyasi's Homegoing, and Paige Orwin's The Interminables!

NEIL GAIMAN. I also have (decidedly) not read everything of his yet because I always want there to be something of his that's always new to me.

Sarah J. Maas's Throne of Glass series. It seems like everyone and their mother's read it, and it's going in different directions than some of us probably hoped for, but I still like it, and I'm super excited for Empire of Storms!

Uh… Patrick Rothfuss's Door of Stone or whatever it's called. The third book in the Kingkiller Chronicles. WHERE IS IT.

I read I Capture the Castle by Dodie Smith as part of an Instagram read a long a while ago, and I loved it so much more than I expected to! I don't know why I thought of it as a stuffy book and avoided it because of that, but I was surprised at its breadth and depth and magic.

The Sandman Omnibus Silver Edition. Because OMG.
(And if anyone's wondering/curious, I caught my first Tentacool and Magikarp in Nassau.)