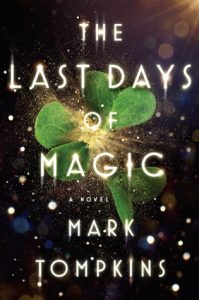 Title:

The Last Days of Magic

by Mark Tompkins
Published by Viking
Published: March 1st 2016
Genres: Fantasy
Pages: 400
Format: Trade Paper
Source: Goodreads
Goodreads


Mark Tompkins' 
The Last Days of Magic
is about the Celts and the old days of magic before it supposedly disappeared from the world. Aisling and Anya, twin girls, were born to unite the Celts with the faeries of the Middle Kingdom. And while the clans of Ireland fight against each other, England and Rome want to drive the magic out of the Emerald Isle. War looms on the horizon, and political tensions twist and stretch among allies and enemies.
I really liked the concept of this book. I expected a story full of history of the Emerald Isle, the warring clans of Ireland, the threats of invasion from Rome and England, and I feel like I got that, for the most part. Sometimes I felt like the history was explained and told to me rather than shown throughout the narrative, and sometimes I felt like it helped me understand the story a little bit better.
However, the thing that bothered me the most about this story was actually the prologue and the epilogue. In the prologue and epilogue, we find out that a young woman named Sara Hill has some family secrets that she is just discovering from her grandmother, and while en route to escaping with some documents that important people have been after for centuries, something happens to her (I don't want to spoil it too much). I felt like none of that truly tied in with the story at hand until the very end when I realized that most of this book is just a prelude to a potential, as-of-yet unannounced sequel. I feel like this story could have easily stood on its own without the prologue and epilogue or could have incorporated more of Sara's story through alternating chapters of the past and Sara's present.
I did enjoy reading it, and I've always loved stories set in old Ireland, old England, and old Scotland because I find those histories so amazing and complex, so I was very pleased to see such a well-researched concept explored in this book. I think it'll be great for anyone who has either a passing interest in the magical history of Ireland and anyone who enjoys historical fiction infused with magic. The mythology is entwined with history so well that this story about the last days of magic is very believable.
Thank you to Viking and Goodreads for an advance copy of this book! All opinions are my own.