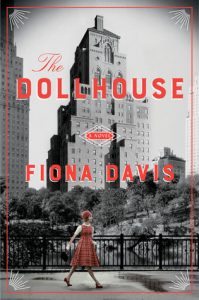 Title:

The Dollhouse

by Fiona Davis
Published by Dutton
Published: August 23rd 2016
Genres: Fiction
Pages: 304
Format: eBook
Source: Netgalley
Goodreads


Fiona Davis's 
The Dollhouse
explores two women who live in the famous Barbizon hotel in alternating viewpoints from the 1950s to modern day New York City. When Darby McLaughlin arrives at the Barbizon in 1952, she is nothing like the other girls who live on her floor. The other girls model and are gorgeous and compared to them, Darby is plain and soft-spoken. When she meets Esme, a maid at the hotel, Darby becomes involved in a world she's only heard about and eventually is involved in a deadly accident. Years later when the hotel has been converted into condos, Rose Lewin, after hearing about the accident involving Darby and Esme, sets out to uncover the history and the secrets between the two women to write an article and she ends up discovering so much more.
I really enjoyed this novel. It's a breezy read that kept me entertained and left me wanting to know how Darby's story and Rose's story intermingled with one another. Davis's writing explores women who are left to the side in society because they "aren't enough" to the men in their lives, and each of the women discover who they are through the course of the novel and become stronger for it.
One of my favorite parts of the novel is the contrast between what was expected of women in the 1950s versus what is expected of women in the 2010s. I particularly liked the attention to detail in clothing and attire that women were supposed to wear in the 1950s, like the clothing, the gloves and the hats; and I liked the contrast in the restrictions women had in that time, especially at the Barbizon, to today's current social climate regarding the freedom of women. I thought it realistically portrayed each woman's struggle in finding the right job, her purpose in life, and even the right partner, and I loved the similarities in those struggles each woman faced contrasting with the differences in society.
This is an excellent read if you enjoy historical fiction about women in their discovery of self, no matter what time in which they live. I'm looking forward to reading more by Fiona Davis!
Thank you to Netgalley and Dutton Books for the review copy!