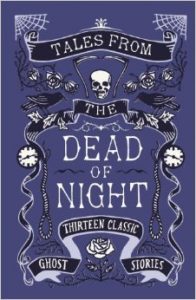 Title:

Tales from the Dead of Night: Thirteen Classic Ghost Stories

by Cecily Gayford
Published by Profile Books
Published: November 25th 2014
Genres: Fiction
Pages: 288
Format: Hardcover
Source: Purchased
Goodreads


Two travellers sat alone in a train carriage.
'Do you believe in ghosts?' asked one, by way of conversation.
'Yes,' said the other, and vanished.
Tales From the Dead of Night: Thirteen Classic Ghost Stories is a collection of ghost stories by still-known and lesser-known authors. Over half of the names I didn't recognize, and those unknown half to me had the more mediocre stories in the collection. My favorites of the collection are "The Shadow," by E. Nesbit, "The Cotillon," by L.P. Hartley, "Pomegranate Seed," by Edith Wharton, and "The Black Veil," by A.F. Kidd.
I will admit that I purchased this title mostly because the cover is absolutely gorgeous. I've held on to the book for several years because I kept putting off reading it, but during October, I made an effort to read more ghost stories and more "Halloween" things, and this was at the top of my list. I love reading Gothic fiction and older ghost stories written and set in times before the advancement of technology because things seem a bit more eerie then, but this collection to me failed to be a cohesive collection. A few stories gave me the shivers, but the rest plodded on and didn't entice me in the slightest, even while taking into account the styles and techniques of Victorian and Gothic literature.
Below are the stories in this collection I think are worth reading and thinking about in the context of society and in the context of literary ghost stories:
Edith Wharton's "Pomegranate Seed" focuses on a haunting of an upper class marriage in New York City and examines a woman's fear.
L.P. Hartley's "The Cotillon" explores an extra guest at an extravagant party.
E. Nesbit's "The Shadow" uses a frame story to tell the ghost story (and honestly the frame story is more exciting than the story inside the story).
A.F. Kidd's "The Black Veil" is probably one of the scariest stories I've ever read.