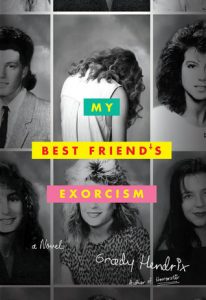 Title:

My Best Friend's Exorcism

by Grady Hendrix
Published by Quirk Books
Published: May 17th 2016
Genres: Fiction
Pages: 336
Format: Hardcover
Source: Purchased
Goodreads

But she remembers when the word "friend" could draw blood. She and Gretchen spent hours ranking their friendships, trying to determine who was a best friend and who was an everyday friend, debating whether anyone could have two best friends at the same time, writing each other's names over and over in purple ink, buzzed on the dopamine high of belonging to someone else, having a total stranger choose you, someone who wanted to know you, another person who cared that you were alive.
I found My Best Friend's Exorcism on a book list for things to read after you've finished watching Netflix's Stranger Things. Needing something to fill in that void, I picked this up and started reading it immediately. I couldn't put it down.
My Best Friend's Exorcism is set in the late eighties and follows Abby's friendship with Gretchen during a series of strange events. When Gretchen begins to behave differently than usual, Abby eventually figures out that a demon has possessed Gretchen and Abby does everything she can to exorcize that demon.
While the plot was a little slow at first, I thought it worked for this book because rather than it being an action-packed adventure through devils and demons and exorcists, this book is an exploration of the friendship of teenage girls and the ups and downs that occur in high school friendships, whether or not one is possessed by demons. Having grown up with a lot of eighties references and eighties films, this book also evokes a similar kind of nostalgia for that decade that Stranger Things did. While Stranger Things seems to evoke those action-packed, Spielberg films of the eighties, My Best Friend's Exorcism evokes those heart-filled John Hughes films of friendship and budding relationships.
If you're left wanting more between seasons of Stranger Things, I definitely recommend My Best Friend's Exorcism!