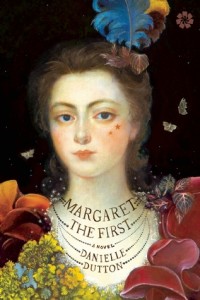 Title:

Margaret the First

by Danielle Dutton
Published by Catapult
Published: March 15th 2016
Genres: Fiction
Pages: 176
Format: Trade Paper
Source: Purchased
Goodreads


Margaret Cavendish is apparently mentioned in Virginia Woolf's A Room of One's Own, and I've added that on my immediate to-read list. And I have a renewed interest in Margaret's own work. I almost wish I could have read it the other way around to see how the author drew from Woolf to create Margaret's dreamlike exploration of what it means to have a space of one's own (in the mind, in the house, in society) to be oneself entirely.
This isn't a historical novel. Ideas and scenes are presented with little more than a place and year. If you're familiar with Margaret Cavendish and the history of the world surrounding her life, the context becomes clearer. If you're not entirely familiar with her or that period in history, it's still enjoyable. I knew enough to place the novel in contextual history, and now after reading I want to know more. It's a thinky, dreamy read that will transport you away for a little while.
It's feminist, it's progressive, and it's lyrical.