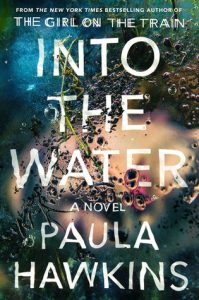 Title:

Into the Water

by Paula Hawkins
Published by Riverhead Books
Published: May 2nd 2017
Genres: Fiction
Pages: 386
Format: Trade Paper
Source: Publisher
Goodreads


Some say the women left something of themselves in the water; some say it retains some of their power, for ever since then it has drawn to its shores the unlucky, the desperate, the unhappy, the lost. They come here to swim with their sisters
.
This summer I am participating in Book Sparks's Summer Reading Challenge, and the first book of the summer is Paula Hawkins's Into the Water. I have been eagerly waiting to read this after reading The Girl on the Train last year, and I feel like she met my expectations with her sophomore novel. Into the Water is a slower-paced novel compared to the runaway feeling that I got while reading The Girl on the Train, and I think that the pace and atmosphere of each book fits the title. Into the Water unfolds slowly through multiple perspectives and all of the details float around until the final few chapters when everything comes together.
Into the Water's strength lies not in the driving force of the plot but in its undercurrent. The main plot revolves around the death of a single mother in a pool of water in which other women throughout the town's history have also died. To me, the most interesting aspect of this novel is the history of that pool and the stories of the women who died there. I would have loved for the novel to revolve more around the histories of those women because their stories were nuanced, engaging, and compelling. I wanted to know more about the lives of those women and what led to their downfalls.
The major drawback for me in this novel are the narrators. I felt like there were too many narrators (eleven! I wrote the names down to keep track of them, and I've never felt like I've had to do that before), and that many narrators lead to a jumpy, sometimes jarring plot. I like stories with multiple perspectives, and I think eleven narrators can work if it's a longer book or a longer series, but when a book is less than four-hundred pages, I find that eleven narrators eventually blur and lose their distinctions.
Overall, this is a solid read for me, and I breezed through it on a lovely spring day with my cat on my lap on our deck.
An advance reader's copy was sent to me on behalf of Riverhead Books and Book Sparks for my honest opinion.