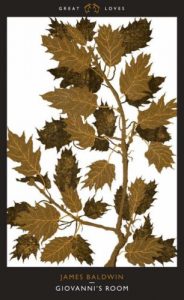 Title:

Giovanni's Room

by James Baldwin
Published by Penguin Books
Published: 1956
Genres: Fiction, Classics
Pages: 150
Format: Mass Market
Source: Purchased
Goodreads


People who remember court madness through pain, the pain of the perpetually recurring death of their innocence; people who forget court another kind of madness, the madness of the denial of pain and the hatred of innocence; and the world is mostly divided between madmen who remember and madmen forget.
Giovanni's Room, by James Baldwin, follows a brief episode of David, an American living in Paris who is desperately trying to figure out who he is, to himself and to the world. David meets Giovanni through an old man's acquaintance, and he goes home with Giovanni. In poetic, lyrical language, Baldwin explores the nature of love juxtaposed with David's idea of love. David's idea of love clashes with his expression and exploration of love, which eventually culminates in an emotionally heart-wrenching separation.
I've often seen this book on lists of best gay novels, but this novel goes beyond a stark black-and-white view of homosexuality. Baldwin explores bisexuality in both David and Giovanni and how each of the two men come to terms with their emotions. David is presented as rather cool and logical, succumbing to his emotions but logically pilfering through them after. Giovanni's behavior appears to be purely emotional and irrational at times, contrasting against David's eventual cool behavior to Giovanni. Giovanni is that character who wants to live life to its fullest, no matter the cost to himself or anyone else. David is the sort of character that will risk it, but not too much, because David, in the end, is one who preserves himself above all else, even if it means giving up love.
David, unlike Giovanni, has a plan, knows his role back home in American society, and cannot deal with something so "extra" as a male lover. His fiancée Hella is off traveling in Spain, presumably with her own lovers, and her return to David is his savior on the horizon, a means by which he can escape back into a comfortable, unquestioning existence.
This novel not only about gay/bisexual love, but about the complexities of the emotion all together.
This short novel is heartbreakingly beautiful and tragic and should be on your reading list if you've not yet read it.