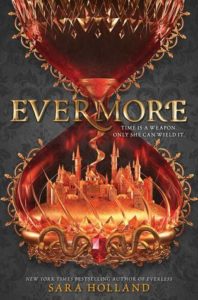 Title:

Evermore

by Sara Holland
Series: Everless #2
Published by HarperTeen
Published: December 31st 2018
Genres: Fantasy, Young Adult
Pages: 368
Format: eBook
Source: Publisher
Goodreads


The highly anticipated sequel to New York Times bestseller, Everless!

Jules Ember was raised hearing legends of the ancient magic of the wicked Alchemist and the good Sorceress. But she has just learned the truth: not only are the stories true, but she herself is the Alchemist, and Caro—a woman who single-handedly murdered the Queen and Jules's first love, Roan, in cold blood—is the Sorceress.

The whole kingdom believes that Jules is responsible for the murders, and a hefty bounty has been placed on her head. And Caro is intent on destroying Jules, who stole her heart twelve lifetimes ago. Jules must delve into the stories that she now recognizes are accounts of her own past. For it is only by piecing together the mysteries of her lives that Jules will be able to save the person who has captured her own heart in this one.
Evermore
picks up not long after
Everless
ends, and while I read the first over a year ago, it wasn't difficult to get back into Sara Holland's world not having reread the first. I loved how the world building, magic system, and mythology were expanded upon and built to be so much more in the second, and it honestly made me wish there was at least one more book in this series just to flesh out the world that much more. The writing was just as lyrical and compelling in the sequel as it was in the first, and I absolutely enjoyed the twists and turns the sequel took after book one left off. Jules is fully fleshed out, having moments of brilliance and airheadedness throughout, and I thought that made her real to me and added a lot of dimension to the story. She is a young woman, after all, and I like it when writers choose to add that 'young' feeling to their characters without having them be 'the best at everything.'
Evermore took a different turn than I was expecting, and I found myself completely enjoying the ride. In Everless, Liam is believed to be the villain throughout most of the book, and in Evermore we get to see a lot more of him. The romance in this duology is appropriate for the genre, and sometimes I found it a little too instalove, but overall, I like where Holland went with the character development with Jules and Liam, showing us as readers that there is often a lot more than meets the eye. Besides, I have a little soft spot for those fantasy antiheroes, and I always want more of them.
Overall, if you read Everless and enjoyed it, definitely finish out the duology. I thought it was a fitting ending even though I was left wanting more!
Thank you to the publisher and Glasstown Entertainment for sending me an e-galley to review! All opinions are my own.