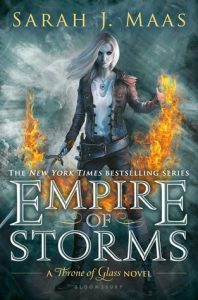 Title:

Empire of Storms

by Sarah J. Maas
Series: Throne of Glass #5
Published by Bloomsbury USA
Published: September 6th 2016
Genres: Young Adult
Pages: 693
Format: Hardcover
Source: Purchased
Goodreads


The long path to the throne has only just begun for Aelin Galathynius. Loyalties have been broken and bought, friends have been lost and gained, and those who possess magic find themselves at odds with those who don't.
As the kingdoms of Erilea fracture around her, enemies must become allies if Aelin is to keep those she loves from falling to the dark forces poised to claim her world. With war looming on all horizons, the only chance for salvation lies in a desperate quest that may mark the end of everything Aelin holds dear.
Aelin's journey from assassin to queen has entranced millions across the globe, and this fifth installment will leave fans breathless. Will Aelin succeed in keeping her world from splintering, or will it all come crashing down?
I won't lie, I was so excited for this book. 
Queen of Shadows
had enough of a cliffhanger that left me wanting more. But then I started reading 
Empire of Storms
, and I was sitting there, thinking to myself, 
what happened?
This isn't going to be a very favorable review, and I'm a little sad about it, I think, because I realized I've grown out of this series, maybe? This review also contains 
MAJOR SPOILERS
, so please be forewarned if you haven't finished the book yet.
So, the general plot is that I don't know what the plot was. Aelin is the one who needs to open the door with the keys, apparently?? However, I was too distracted by rolling my eyes at the endless flirting happening between literally every. single. character. Not everyone has to be paired up, and not everyone has to be paired up in a heterosexual duo. Elide had more chemistry with Manon than Elide had chemistry with Lorcan. Dorian had more chemistry with Chaol than Manon. Aedion didn't need to be paired off with Lysandra. None of it really made any sense except that I guess now the thing is to create all the 'ships instead of develop characters through other means.
I also had the weird feeling that these weren't the characters I originally read in the previous novels and that the characters in the Throne of Glass series are starting to meld with the characters from the Court of Thorns and Roses trilogy. None of their voices seemed to stand out to be something recognized. Even Manon, who I have been interested in since the start, turned into another boy-crazy character because King Dorian is a perfect broad-shouldered specimen.
The sex scenes are laughable, and the use of "purely male" to describe anything regarding the male characters is just awful writing. What does it mean to be "purely male?" All the sex, even the sex on the beach, happens perfectly. Nothing goes wrong, nothing weird happens, no sand in uncomfortable crevices, it's all just perfect fantasy. Does everyone also just magically affect their bodies for birth control? Manon's got iron nails and teeth, how does this not affect anything?? Aelin literally catches fire when she's aroused. It's just laughably bad and I had to force myself through those terribly written scenes.
The writing flowed well enough and kept me reading, but I'm starting to wonder if this is one of those cases where Maas is getting too big for the editor, and the editor is kind of starry-eyed at being able to edit a best-selling author's work, and just lets anything go?? I'm also sort of wondering if the plot's just fizzling out and there just needed to be filler to make it to the last book? I'm just really confused by this seemingly sudden shift into full blown terrible romantic suspense rather than furthering the original plot line.
Even with all of my complains and issues with this book, I still give it three stars. I was engaged, and Maas has an excellent way of keeping a story moving. I just wish there was more action (and not in the sexy kind) and more exploration of how everything happening in the book affected the characters.  Empire of Storms just seems like fanfiction to me, and I was pretty disappointed with it in the end. I'll read the last one because I've already reached this point, but I'm going to be really wary about it.