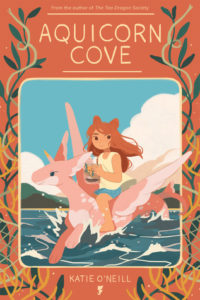 Title:

Aquicorn Cove

by Katie O'Neill
Published by Oni Press
Published: October 16th 2018
Genres: Graphic Novel
Pages: 96
Format: eBook
Source: Netgalley
Goodreads


When Lana and her father return to their seaside hometown to help clear the debris of a storm, the last thing she expects is to discover a colony of Aquicorns—magical seahorse-like residents of the coral reef. As she explores the damaged town and the fabled undersea palace, Lana learns that while she cannot always count on adults to be the guardians she needs, she herself is capable of finding the strength to protect both the ocean, and her own happiness.
Katie O'Neill's
Aquicorn Cove
is an adorably illustrated story about a girl named Lana and her father who return to their little island to visit Auntie Mae. Lana is still grieving the death of her mother, and she finds comfort in the familiarity of the island she used to call home before she moved away to live with her father.
The graphic novel follows Lana's return home and her personal exploration through the island. The story shows the island's connections with the people, flora, and fauna who live on the island and in the ocean around it and showcases the need to take care of our surroundings, especially our seas and our reefs, and does this through captivating and whimsical illustrations. The story also explores those concepts of care and love for people and our local places and how love manifests its way through different channels. Lana, in her exploration of the islands and the seas around it, discovers that she has to learn how to rely on herself and how to love herself in order to do what needs to be done. This sort of self-discovery is relatable on so many levels, and I felt like the writing was appropriate for all ages, not just for younger readers.
I loved it and devoured it in a single sitting, and I found myself wanting to be transported to this island for a visit myself.
Thank you to Netgalley and Oni Press for a complimentary digital review copy! All opinions are my own.