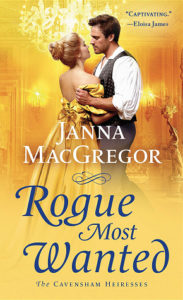 Title:

Rogue Most Wanted

by Janna MacGregor
Series: The Cavensham Heiresses #5
Published by St. Martin's Paperbacks
Published: June 25th 2019
Genres: Romance
Pages: 371
Format: ARC
Source: Netgalley
Goodreads


There's one creed all Cavensham men subscribe to: they fall in love completely and decidedly. But what happens when the woman you fall in love with swears she'll only marry you as a last resort? Rogue Most Wanted is the next book in the sparkling, romantic Cavensham Heiress series by Janna MacGregor.

SHE NEEDS TO MARRY SOMEONE

Lady Theodora Worth needs to marry fast in order to keep her estate. It's been her heart and home for years, and she'll not lose it to anyone. There's just one problem—as a woman who was raised in isolation by her grandfather, she's completely incapable of pouring a cup of tea, never mind wooing a man. She'll need a little matchmaking help from her sprightly next-door neighbor in order to find a convenient husband…

IT'S JUST NOT GOING TO BE HIM

Lord William Cavensham's heart was broken years ago, and since that day he vowed to never love again. But his spirited Great Aunt Stella is determined he'll marry or not inherit a single penny from her. And she's got just the woman in mind—her beautiful and completely hapless next-door neighbor, Thea…

Thea and Will agree there's no sense in marrying each other. Will wholeheartedly believes he's incapable of love, and Thea refuses to marry the first man she's practically met. But Will may be the rogue Thea wants the most after all…
When I started reading
Rogue Most Wanted
, I hadn't realized it was the fifth in the series, but I ultimately think that it didn't detract too much from the story. Once I got near the end, I realized that a lot of the other characters and couples mentioned in the book were
probably
from previous works in the series and my Goodreads perusal proved me right. Anyway, MacGregor's
Rogue Most Wanted
continues my adventure in historical romance, and this one fell a little more flat for me than the others. I didn't feel as if Will was much of a rogue. That little bit of his history in the frame chapter that may have proved otherwise didn't seem to carry to the present. He was a total romantic through and through, even as much as he fought it.
The second half dragged a bit more for me than the first, and it felt as if some of the plot devices were being forced to work rather than them feeling effortless in the course of the narrative, like the extended family member who tried to lay claim to the title. He just seemed to show up when it was convenient for the storyline rather than to actually cause some mischief. The consistent misuse of the word "jilted" bothered me. I know the standard meaning of the word is to abruptly leave someone, but for all I've been familiar with the word, it's been associated with someone literally in the act of getting married being suddenly left at the altar with no explanation necessary. Will's previous lover that scorned him has a better feeling in the context of the story. But that's just me being picky over semantics.
What I did love about this book was that all of the women were strong, independent, and real. They had depth to them, even the side characters, which was palpable and believable. It showcased the struggle of women having a place in a man's world, possessing land and title, and what it meant to be a woman who possessed such things. I also liked that it showed the deeply personal struggle one undertakes when caring for someone with dementia. It's never easy watching someone you love fall into disarray and no longer know themselves or anyone else around them.
Many thanks to St. Martin's Paperbacks and Netgalley for a complimentary e-ARC to read and review!