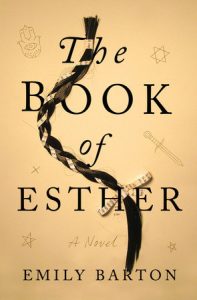 Title:

The Book of Esther

by Emily Barton
Published by Tim Duggan Books
Published: June 14th 2016
Genres: Fiction, Magical Realism
Pages: 432
Format: Hardcover
Source: Blogging for Books
Goodreads


I am Esther, and like my namesake before me, I will save the Jewish people.
Emily Barton's The Book of Esther is an anomaly. Take Joan of Arc, dieselpunk, magical realism, let it simmer with Judaism, and you've got a very distilled essence of what this book contains. It doesn't fit neatly into a genre, and it's a little chaotic, but it's worth reading for so many reasons.
The Book of Esther follows the journey of a young Jewish woman named Esther, who takes it upon herself to follow her calling even though she is initially hesitant, even though she faces opposition from her family and her village, and even though she knows her journey will be a difficult one. This novel explores the roles of women in Jewish society, and it shows the strength it takes to overcome the captivity women sometimes face in traditional roles. Barton also challenges the divide of male and female roles in Jewish/traditional society by having Esther go on a journey to transform herself into a male, because she knows that only in a male form will she be accepted and taken seriously by her society. Esther also meets a scholar who has transitioned from female to male by faith in the Hashem (in effort to keep this review as spoiler free as possible, I won't name names!), and I loved how Barton weaves this into the story and celebrates his identity, especially his identity in his faith. Barton allows Esther to be naive regarding this scholar, and both characters grow and learn about identity and what it means to be oneself through each other. However, Esther learns along the way that no matter what the mystics have whispered, she cannot be anyone but herself. By the end of the novel, instead of encouraging every woman to follow her radical lead, Esther quietly encourages those she meets to be themselves, whoever and whatever they are and choose to be.
There are some things to keep in mind about the novel that might deter or confuse some readers. This novel requires some sort of knowledge of Judaism and Jewish history to fully appreciate because it explores the magical parts of creation and Jewish and Kabbalist mysticism. Having prior knowledge will help in the beginning of the novel when some ideas and concepts are glossed over because it is presumed the reader has prior knowledge. This novel is religious, but it's not out to convert the reader to a particular belief or reinforce in readers that a particular belief is "correct." This novel has a love triangle, but it's not key or essential to Esther's story.
All in all, The Book of Esther is a must read if you enjoy magical realism infused with a Jewish Joan of Arc, dieselpunk with mechanical horses, and a feminist journey of identity. I enjoyed it immensely, and I still think about it frequently because Esther has inspired me to keep questioning everything because she questions everything. Through that questioning, Esther learns a lot about herself and her identity. She told throughout the entire novel that she can't do this or that because she's a girl. Instead of giving up, she follows her heart and does it anyway. And you know what? People listen.
I received a free review copy from Blogging for Books. All opinions are my own.