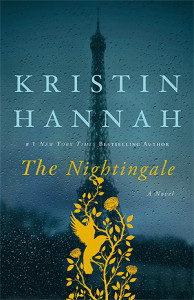 Title:

The Nightingale

by Kristin Hannah
Published by St. Martin's Press
Published: February 3rd 2015
Genres: Fiction, Historical
Pages: 440
Format: Hardcover
Source: Library
Amazon, Book Depository
Goodreads


Men tell stories. Women get on with it. For us it was a shadow war. There were no parades for us when it was over, no medals or mentions in history books. We did what we had to during the war, and when it was over, we picked up the pieces and started our lives over.
I'd heard a lot about this book from various people, publications, and my old job at the bookstore. It kept showing up everywhere, so I finally decided to reserve it at the library and give it a go. We usually hear about the stories of men in wars, a man's heroic actions, and a man's role in the war, but we hardly hear of what women went through during any war. Not in popular commercial fiction, anyway. I'll be the first to admit that I was hesitant on picking it up because Hannah's other works aren't titles of interest to me, but I'm all about expanding my horizons this year. I'm glad I did for this one.
In The Nightingale, Hannah explores the relationship between two French sisters during World War II. It started out slow, a bit cliche at times, but by the time I got through a third of the book, I couldn't put it down. I read straight on from about eight-thirty in the morning to noon. I wanted to read more of Isabelle's story, and I can certainly see from this interview why Hannah wrote about a young woman leading hundreds of soldiers to freedom. I don't recall reading anything even remotely similar to that in my history books, nor are the actions of women often spoken about in reference to the war. The Nightingale shows two women fighting their own battles during the war in their own ways, sometimes through being outspoken and daring, and sometimes through hardship and resilience.
Even though the story seemed too tidy and too happily-ever-after in its resolution, I really enjoyed reading it, and it makes me want to read more about the women who played such pivotal roles in World War II.