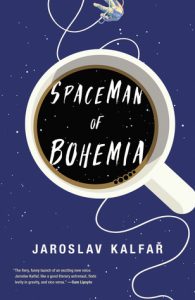 Title:

Spaceman of Bohemia

by Jaroslav Kalfar
Published: March 7th 2017
Genres: Fiction, Science Fiction
Pages: 277
Format: eBook
Source: Netgalley
Goodreads


Existence runs on energy, a fluid movement forward, yet we never stop seeking the point of origin, the Big Bang that set us upon our inevitable course.
I feel like a lot of the fiction I've read this year as a sense of the weird to it. Something is off, something is not quite right. Spaceman of Bohemia is about an orphaned boy raised by his grandparents who grows up to become an astronaut. When the novel begins, he is going on a single-manned mission to a weird particle glow cloud in space near Venus. But this isn't science fiction in the usual sense. I found this novel to be an exploration on what it means to be a person, what it means to recognize your past as part of your future, and a philosophical meditation on identity.
I didn't know what to expect when I started reading it, and I'm glad I never read more than the cover flap on the copy that's been on the shelves at work for a while because I think I might have been disappointed if I thought this was a space adventure story. It reminded me a lot of Foer's Everything is Illuminated in the way in which the story moved back and forth through time, through flashes of Jakub's memories and his present experiences.
What I loved most about this novel, surprisingly enough because I am terrified of spiders, is the hallucinatory spider-like alien who loves Nutella. We never really find out whether or not the spider-alien Jakub sees is really there, and it makes me wonder if the alien manifests itself based on the fears of the person it senses. The alien tells Jakub that it has been observing Earth for a while, absorbing everything humanity has to offer, but it's Jakub who brings that "humanry" to the alien on a personal level. The end is both heartbreaking and triumphant, and it left me wanting to read more about Jakub and more by Jaroslav Kalfar.
A copy of this book was provided to me for review by the publisher and Netgalley; all opinions are my own.