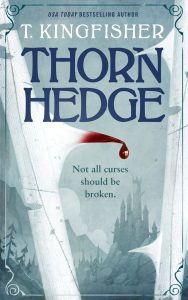 Title:

Thornhedge

by T. Kingfisher
Published by Tor
Published: August 15, 2023
Genres: Fantasy
Pages: 116
Format: ARC
Source: Edelweiss
Buy: Bookshop(afflilate link)
Goodreads


Thornhedge is the tale of a kind-hearted, toad-shaped heroine, a gentle knight, and a mission gone completely sideways.

There's a princess trapped in a tower. This isn't her story.

Meet Toadling. On the day of her birth, she was stolen from her family by the fairies, but she grew up safe and loved in the warm waters of faerieland. Once an adult though, the fae ask a favor of Toadling: return to the human world and offer a blessing of protection to a newborn child. Simple, right?

But nothing with fairies is ever simple.

Centuries later, a knight approaches a towering wall of brambles, where the thorns are as thick as your arm and as sharp as swords. He's heard there's a curse here that needs breaking, but it's a curse Toadling will do anything to uphold…
Everything I've ready by T. Kingfisher has been excellent, and 
Thornhedge
is a Sleeping Beauty retelling that I keep thinking about even though I read it back in June. This reimagines 
Sleeping Beauty
from the perspective of the 'evil fairy' of the tale we're probably most familiar with, and it's a twist I enjoyed a lot, especially now having read one of her The Saint of Steel paladin romances. Toadling, our fairy who has cursed the princess, was taken by the fairies at birth and given her name by the greenteeth and taught by the hare goddess.
The story opens after two hundred years of Toadling standing sentry of the castle surrounded by a thorn hedge, protecting what's inside and protecting the world outside. She meets Halim, a soft-spoken paladin who tells her that he 'mostly came for answers or maybe just the story,' and the entire book is a reflection on the how truth becomes a story and how story holds threads of truths, and how we reconcile that with ourselves.
Even though the worldbuilding seems small, it is constrained by Toadling's own view of the world, stuck in the same area for over two centuries and no real interaction with anyone over those two decades until Halim the paladin makes the effort. It wraps up neatly, with sharp violence contrasting with a sense of comfort, but it left me wanting more set in this world and more about Halim, more about Toadling, more fairy tales reimagined in such a way. This has a similar vibe to Paladin's Grace, so if you enjoy the softer, slower, cozier kind of story that explores something in a vast world from a limited perspective, then I'd recommend The Saint of Steel series that I'm currently reading.
Overall, this is one of my favorites of the year, and one of my favorite reimaginings of the Sleeping Beauty fairy tale.