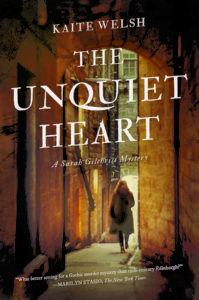 Title:

The Unquiet Heart

by Kaite Welsh
Series: Sarah Gilchrist #2
Published by Pegasus Books
Published: February 21st 2019
Genres: Mystery
Pages: 288
Format: eBook
Source: Netgalley
Goodreads


Kaite Welsh's thrilling THE UNQUIET HEART is the second in the gothic Sarah Gilchrist series, following a medical student turned detective in Victorian Edinburgh.

Sarah Gilchrist has no intention of marrying her dull fiancé Miles, the man her family hope will restore her reputation and put an end to her dreams of becoming a doctor, but when he is arrested for a murder she is sure he didn't commit she finds herself his reluctant ally. Beneath the genteel façade of upper class Edinburgh lurks blackmail, adultery, poison and madness and Sarah must return to Edinburgh's slums, back alleys and asylums as she discovers the dark past about a family where no one is what they seem, even Miles himself. It also brings her back into the orbit of her mercurial professor, Gregory Merchiston - he sees Sarah as his protegee, but can he stave off his demons long enough to teach her the skills that will save her life?
I read the first Sarah Gilchrist book last year? The year before? And I fell in love with it. Sarah Gilchrist is a medical student at the University of Edinburgh, and in this second installment of the series, Sarah is trying not to marry her fiance Miles. In the midst of the drama surrounding her upcoming wedding, Miles is arrested for a murder Sarah is sure he didn't commit, and she becomes his ally in trying to clear his name while maintaining the delicate balance of her own reputation.
I love Sarah's voice. She's a strong-willed individual who finds it difficult to balance what she wants in her life while trying to balance what's expected of hers by others. She knows she'll never be able to live up to those expectations, and her professor Gregory Merchiston encourages Sarah to find her own way. Welsh weaves in traditional mystery tropes with historical fiction and feminism, and the writing and the story is fresh, engaging, and wonderful. I also loved the weaving in of what happened in the first book without it feeling like an info dump, because there were some details I had forgotten or was glad to be reminded about. The hint of romance near the end is swoon-worthy, because who doesn't love a quietly-pining, broody someone?
If you're interested in feminist historical fiction with strong characters with a setting that feels like you're completely immersed, definitely check out this series.
Thank you to Netgalley and Pegasus Books for the digital advance copy! All opinions are my own.