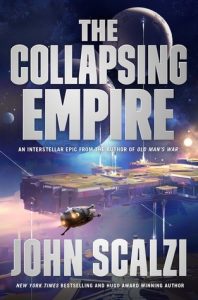 Title:

The Collapsing Empire

by John Scalzi
Series: The Interdependency #1
Published by Tor Books
Published: March 21st 2017
Genres: Science Fiction
Pages: 333
Format: Hardcover
Source: Borrowed
Goodreads


The first novel of a new space-opera sequence set in an all-newuniverse.

Our universe is ruled by physics and faster than light travel is not possible -- until the discovery of The Flow, an extra-dimensional field we can access at certain points in space-time that transport us to other worlds, around other stars.

Humanity flows away from Earth, into space, and in time forgets our home world and creates a new empire, the Interdependency, whose ethos requires that no one human outpost can survive without the others. It's a hedge against interstellar war -- and a system of control for the rulers of the empire.

The Flow is eternal -- but it is not static. Just as a river changes course, The Flow changes as well, cutting off worlds from the rest of humanity. When it's discovered that The Flow is moving, possibly cutting off all human worlds from faster than light travel forever, three individuals -- a scientist, a starship captain and the Empress of the Interdependency -- are in a race against time to discover what, if anything, can be salvaged from an interstellar empire on the brink of collapse.
It worked because on a social level, apparently enough people wanted it to, and because at the heart of it, billions of humans living in fragile habitats prone to mechanical and environmental breakdowns and degradation, and with limited natural resources, were better off relying on each other than trying to go it alone. Even without the Interdependency, being interdependent was the best way for humanity to survive.
I feel like I should preface this by saying that other than this I have only read Old Man's War (and his twitter/blog), so for a second excursion into someone else's work, I was hoping for the same kind of humor, wit, and intelligence that I saw in Old Man's War. And I did. I also felt like his writing strengthened all around, which is an excellent thing to see going from a debut novel to his most recent. (And now I feel like I really should get the ball rolling on reading everything else he's done!) His work was pitched to me as SF101, something easy enough for the unseasoned science fiction to access but something even well-read science fiction readers will enjoy for the references and subversions of the genre's tropes. Fun fact: I teach Old Man's War in my science fiction freshman seminar!
The Collapsing Empire is the start to a new space opera series about a whole smattering of planets across the universe connected by something called the Flow, which bends the rules of physics and allows for relatively speedy space travel between systems. As one might imagine, trade develops between the planets, an interplanetary government is set up (called the Interdependency), and everything appears to be stable. But stability apparently is only an illusion.
In addition to his accessible science fiction, Scalzi is a master at creating a cast of characters with whom you'll laugh and for whom you'll root. Kiva, who swears like it's going out of style, is probably one of my favorite characters in sf. Cardenia is the newly-throned Emperox who is easy to relate to because no matter how hard we try, we're never really prepared when the big, difficult things happen.
The Collapsing Empire reflects on current events, especially climate change, political leaders, interplanetary/international politics, and the consequences of those things if we're not careful and considerate. It also shows us the humanity behind those making the decisions and those affected by those decisions. The private lives of these characters are explored in an unrestrained way and are allowed to be whomever they are, and it feels weird to write that even today because a lot of sf tends to fall into "traditional" tropes of black and white ideologies. It's nice not to bat at eye at the idea of bisexual characters, or characters on any part of the spectrum. It's nice to find humanity in double-crossy, deviant, sweary merchants. And while feeling fresh on many levels, it feels like an homage to traditional space opera stories, making it a lot of fun.
My only major qualm with it is that the first book ends abruptly. Like literally right when the action ramps up. I wouldn't mind it so much if the second one was coming out soon, but the wait is going to be agony! I need to know what happens next!