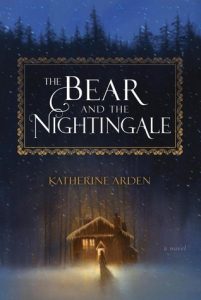 Title:

The Bear and the Nightingale

by Katherine Arden
Published by Del Rey
Published: January 10th 2017
Genres: Fantasy
Pages: 322
Source: Netgalley
Goodreads

At the edge of the Russian wilderness, winter lasts most of the year and the snowdrifts grow taller than houses. But Vasilisa doesn't mind—she spends the winter nights huddled around the embers of a fire with her beloved siblings, listening to her nurse's fairy tales. Above all, she loves the chilling story of Frost, the blue-eyed winter demon, who appears in the frigid night to claim unwary souls. Wise Russians fear him, her nurse says, and honor the spirits of house and yard and forest that protect their homes from evil.
After Vasilisa's mother dies, her father goes to Moscow and brings home a new wife. Fiercely devout, city-bred, Vasilisa's new stepmother forbids her family from honoring the household spirits. The family acquiesces, but Vasilisa is frightened, sensing that more hinges upon their rituals than anyone knows.
And indeed, crops begin to fail, evil creatures of the forest creep nearer, and misfortune stalks the village. All the while, Vasilisa's stepmother grows ever harsher in her determination to groom her rebellious stepdaughter for either marriage or confinement in a convent.
As danger circles, Vasilisa must defy even the people she loves and call on dangerous gifts she has long concealed—this, in order to protect her family from a threat that seems to have stepped from her nurse's most frightening tales.
Katherine Arden's 
The Bear and the Nightingale
is a superbly magical fairy tale inspired by Russian folklore. The story is lyrical and engaging, and even though I'm not a reader who is familiar with Russian fairy tales and folklore, so much of it seems both familiar and strange that I felt like this story has both been part of that fairy tale lexicon of sorts and wholly new all at the same time. I love it when a writer weaves together the old and the new to make a new effortless-feeling tale that lingers in the mind long after the book ends.
Vasya, the main character, is lively and complicated, as fairy tale heroines often tend to be. Arden's villains are nuanced and complex, making you think that perhaps villainy is only a construct of our perspectives rather than a factual thing. The atmosphere feels like a chilly Russian wilderness, and its distant enough in time and distance to be all the more enchanting.
And, like many traditional, "original," fairy tales, The Bear and the Nightingale is beautiful and terrifying in a very Neil Gaiman-esque sort of way, and I love the sort of terror that sneaks up on you and faces you full-on, making you come to terms with the terror of your own reality in contrast to this fairy tale one.
If you are a fan of Erin Morgenstern and Neil Gaiman and enjoy reading terrifically beautiful fairy tales, this is one you need to add to your TBRs immediately!
Thank you to NetGalley and Random House/Ballantine for a review copy!