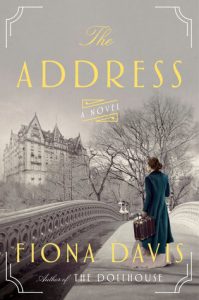 Title:

The Address

by Fiona Davis
Published by Dutton Books
Published: August 1st 2017
Genres: Historical, Fiction
Pages: 368
Format: eBook
Source: Netgalley
Goodreads


After reading her second novel, Fiona Davis has become one of my new favorite historical fiction writers. In 
The Address
, Davis expertly weaves two women's lives and the history of a landmark residence, The Dakota, in New York City. The lives of two women from the 1880s and the 1980s are woven together as the mystery behind The Dakota unfolds. 
The Address
begins in 1985 when Bailey Camden, heir without genetic proof to The Dakota's architect, is released from rehab and reenters the world, ready to make something of herself. The famed residential hotel, The Dakota, has fallen into disrepair, and Bailey, who is trying to reestablish herself as an interior designer, wants to learn more about the history behind the building. The narrative weaves in and out of Bailey Camden's discovery of the history of The Dakota while exploring Sara Smythe's connection with the residence.
For me, Sara Smythe's part of the story was the most interesting. I have a soft spot for stories about women who rise from the bottom to become more than they ever dreamed of becoming. Sara, when we first meet her, is a hotel manager in England who saves the life of an architect's daughter. Theodore Camden, the architect, offers her a position at the residential hotel he has built in New York City. The attraction between Sara and Theodore is immediate right from the start, and that relationship develops over the course of the novel. The twists and turns at the end of her story were a little unexpected and thrilled me. It's revealed at the beginning of the novel that Sara stabbed Theodore, but the true thrill are all of those little events that lead up to that event. However, I felt like Bailey's desire for a fresh start and her refusal to compromise herself tied the lives of both women and tied the story together, because no matter the hundred years between them and no matter the different social structures, both women faced similar struggles and strove to overcome them.
Overall, this is an enjoyable historical fiction novel. For the first third of it, I felt like the story was weighed down by the amount of research and detail in the set up, but that detail redeems itself when the story does pick up and become difficult to put down. I've already hand-sold this and her previous novel, The Dollhouse, to some of my customers looking for new historical fiction recommendations, so if you enjoy fiction about women who overcome their struggles and enjoy historical fiction set in New York City, The Address comes highly recommended!
Thanks to Netgalley and Dutton/Penguin for a review copy! All opinions are my own.