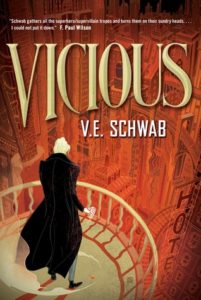 Title:

Vicious

by V.E. Schwab
Published by Tor
Published: September 24th 2013
Genres: Fantasy
Pages: 364
Format: Trade Paper
Source: Purchased
Buy: Bookshop(afflilate link)
Goodreads


Victor and Eli started out as college roommates—brilliant, arrogant, lonely boys who recognized the same sharpness and ambition in each other. In their senior year, a shared research interest in adrenaline, near-death experiences, and seemingly supernatural events reveals an intriguing possibility: that under the right conditions, someone could develop extraordinary abilities. But when their thesis moves from the academic to the experimental, things go horribly wrong. Ten years later, Victor breaks out of prison, determined to catch up to his old friend (now foe), aided by a young girl whose reserved nature obscures a stunning ability. Meanwhile, Eli is on a mission to eradicate every other super-powered person that he can find—aside from his sidekick, an enigmatic woman with an unbreakable will. Armed with terrible power on both sides, driven by the memory of betrayal and loss, the archnemeses have set a course for revenge—but who will be left alive at the end?
I feel like I rarely give out five-star reviews, but I think V.E. Schwab's Vicious earned it by the end. It started out a bit slow for me (but that might also be attributed to a little reading slump), but once I hit the halfway mark, I was hooked and couldn't put the book down. Vicious grapples with the superhero ideas of good and evil, hero and villain, and what results from all of the chaos each of two main characters create.
Eli Ever is the self-regenerating, self-proclaimed hero after discovering the secret behind the creation of EXtraOrdinary people, often called EOs throughout the book. After his best friend Victor Vale becomes an EO, accidentally murder's Eli's girlfriend, and goes to prison, Eli makes it his mission to remove other EOs from the population.
The book alternates between the present day with Eli being the 'hero' and the past with the beginning of Eli and Victor's struggle to the present with Eli trying to take control over the EO population and Victor's escape from prison to get to Eli. The alternating chapters threw me off at first, but then it fell into a really interesting rhythm, as if each chapter set in the past connected with each chapter in the present.
One of the things I like most about Schwab's stories is that every character feels relevant and feels fully developed. Vicious is a character-driven superhero story about that sometimes very fine line between good and evil and the complexities that each character faces. With obsession driving them both, the hero does some really terrible things and the villain does some really wonderful things. By the end of the book, we're left with a lot to think about. In the face of adversity, ignorance, and power, who defines what is good and what isn't?